Emily Wears is a young auctioneer who has taken her career more seriously than anyone would fathom. Emily wears many hearts; she is an accomplished musician, singer, and leatherworker. Emily was not a well-known auctioneer until she appeared in the A&E Network hit reality series, Storage Wars. She stands out as this young auctioneer control of the auctions. Her auction chant is spectacular. Know more about Emily Wears net worth right here in this review.
Auctioneer Emily Wears Wiki, Bio
Emily Wears can singlehandedly handle an auction in this highly male-dominated career. Imagine a young lady standing amid burly looking buyers, chanting bid prices. They have to listen to her as she controls the auction. They try to bully her, but it never works for them. She sticks to her gun when push comes to shove from the buyers.
Emily finished auction school at the age of seventeen. She has grown up in the auctioneering family background. She is now a young and accomplished auctioneer. Back at home, she runs an auction business with her father. She has also learned the ropes from her dad, who is a seasoned bid caller.
Emily Wears Net Worth, Income.
She has earned much of this net worth from her appearances on the Storage Wars show. Emily also does help her father run their family auctioneering company, Wears Auctioneering Inc.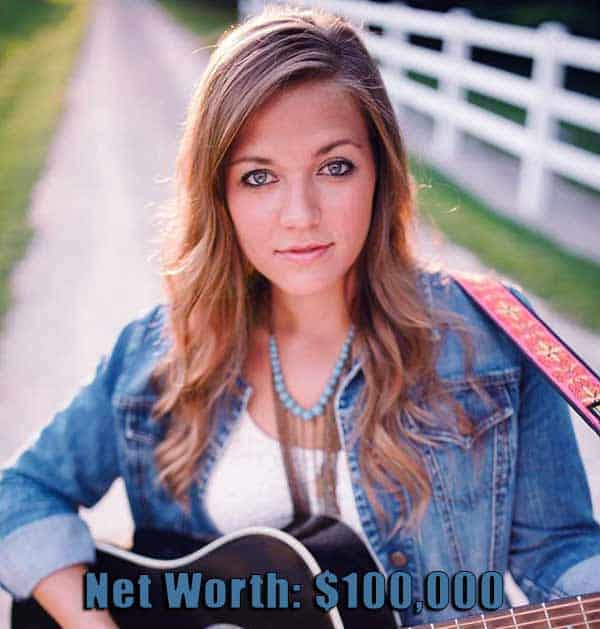 She is a young auctioneer with a very bright future ahead for her career both on TV and at her father's firm. She is expected to keep growing her career and net worth as she progresses. Emily Wears has an estimated net worth of $100,000.
Career Info.
Emily Wears was brought up in a family of an auctioneer. Her father has done the business for very many years. She decided to take the path her father had beaten. It was easier for her because the foundation had already been set for her.
Her father, Brent wears mentored her very well. Also, as a young child, born in an auctioneer's family, there were many chores that she and other children would be made to do. There was such work as helping old ladies with their load of purchases from the auction, carrying boxes of collections for auction and many more errands.
He later took her up to join his company, Wears Auctioneering Inc. She was given the job of a clerk, where she learned the computerized clerking system at just the age of 10 years. She continued with the job until she went to auction school. After completing her studies at World Wide College of Auctioneering in Mason City, Iowa, she started helping her dad as a professional auctioneer.
She went to auction school, after which she joined the Iowa Auctioneers Association (IAA) and the National Auctioneers Association (NAA). She participated a lot in competitions while in these associations. She won 2nd place in the International Junior Auctioneer Championship (IJAC) in 2008 and later in 2009 Emily won the Iowa Auctioneers Contest.
Emily has a notable self-drive that she has used well to propel her career, unlike her peers. She later moved to Wyoming and joined the Wyoming Auctioneers Association (WAA) and the Colorado Auctioneers Association (CAA). Then in 2012, the WAA named her youngest receiver of the Colorado Auctioneers Contest.
Achievements.
The peak of all these wins came in July 2018, when she was crowned to be the International Auctioneer Champion. Emily Wears has continued to get more achievements in her career. She has obtained the admired, prestigious Benefit Auctioneer Specialist (BAS), Certified Auctioneers Institute (CAI) certification, and Auction Technology Specialist (ATS) designations from the National Auctioneers Association designation academy.
She has also been a judge for many Auctioneer competitions.
Emily worked with a production company on a new auction reality TV show called "Money Barn" which was aired on March 2013 on Animal Planet channel. The show did not last for long.
Emily Wears Career in Storage Wars.
Emily Wears was picked to appear in the first nine episodes of Storage Wars. The show involves professional buyers who come in to bid for storage units whose rent is unpaid. The buyers cannot go in, or touch the content of the units. Emily then sells it to them at the highest bidder price. The highest bidder gets the unit.
Emily has experience spanning across many auctioneering companies such as Wears Auctioneering, Solon, Iowa, Wyoming Kaufmann Auction, Ohio, Al Rose Auction Company, Cheyenne, Musser Bros. Auctioneers, Cody, Schur Success Auction and Appraisal, Monument, Colorado and many more.
Many of these companies she has worked as a contract auctioneer earning her a good experience and income. She has also undertaken roles such as cashier, online auctions, creating and updating websites, managing social media platforms, bid-calling, ring person or bid spotting, writing emails, and receiving phone calls.
To crown it all, Emily Wears has helped her father create the online division of Wears auctioneering. The business has expanded a lot from this venture that opened new markets for them.
Emily Wears is Also a Musician.
Emily Wears does not just wear the hat of an auctioneer, but she is an accomplished musician. In her high school days, she would participate in every musical competition.
She owns a collection of musical instruments such as the mandolin, guitar and her granddad's 100-year-old fiddle.
She auditioned for the first season of American Idol in 2015.
Emily Wears Married to Husband Cody Kroul. Kids
Emily is married to a man by the name Cody Kroul. They tied the knot on May 6, 2017. This was a highly publicized wedding as seen on her wedding website. Cody is a rodeo cowboy who is travelling most of the time. He is actually from her family friends.
He is not just a stranger who met Emily Wears and asked her out. Cody is five years older than Emily, and they grew up seeing each other when their families would go out to trail ride together.
Cody remembers how his dad would take him to Wears Auctioneering and would be amazed at how Brent, (Emily dad), would talk fast when chanting the bid prices. 
They have fond memories of each other. The wedding was done at Wear's home. A reception and dinner followed later in Lisbon, Iowa at the Regal Crown. Emily Wears has not come out publicly to say whether they have a child together.
Family, Age, Wiki-bio
Emily was born in 1990 in Solon, Iowa, United States of America. She was born to Brent Wears, a well-known Auctioneer who trained her daughter into the career. Her mother is called, Donna Wears. She grew up doing auction errands in her father's business.
Auctioneer Emily then attended the University of Wyoming, where Emily Wears got a degree in Business Management.
Emily Wears then moved to Cheyenne, Wyoming to pursue her auctioneering career. She went on to start the online division of her father's business.
Quick Facts
| | |
| --- | --- |
| Full name | Emily Wears |
| Acting name | None |
| Date of birth (age) | 1990 (28) |
| Birthplace | Solon, Iowa |
| Net worth | $100,000 |
| Career | Auctioneer and TV show castor |
| Nationality | American |
| TV Show | Storage wars |
| Marital status | Married |
| Husband | Cody Kroul |
| Children | Not known |
| Height | 5 feet 6 inches |
Originally posted on September 13, 2019 @ 5:30 pm