Rain Brown is the youngest child of Ami and Billy Brown from the Reality TV show Alaskan Bush People. Rain starred on the TV show along with her family on the debut of the show in 2014 while she was only 12. She grew up in Hoonah, AK, where the early season of the show was filmed. Read this to know if Rain Brown is gay or not.
Alaskan Bush People is a show about the Brown family, which covers their daily living in the harsh environment away from civilization. Rainy Brown grew up in front of the camera, and the viewer loves her for her mental and physical toughness.
Later the show is filmed in Okanogan, Washington, where the family continues to live in the wilderness. Rain's parents even refer to her as the Bush Barbie due to her infatuation with the dolls. This article tells you Alaskan Bush People Rain Brown's Net Worth and income sources.
Rain Brown Parents, siblings?
Alaskan Bush People Rain Brown is of white ethnicity like her whole family. Rain is the 7th children, born on 23rd November 2002 to Wife Ami and husband Billy, the Brown couple.
The eldest son is named Matt, followed by Bam Bam, Bear, Gabe, Noah, Snowbird, and Rain. Snowbird and Rain are the only two girls in the family with five boys. The mother, Ami Brown, homeschools all of the Brown children.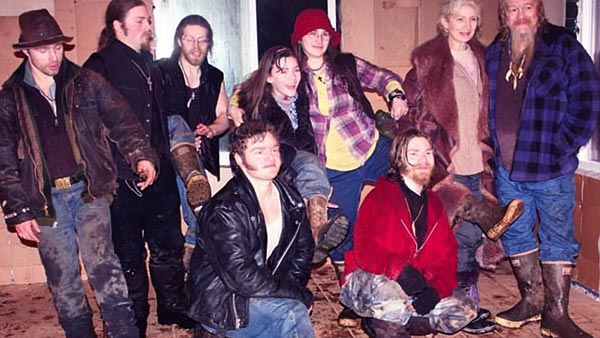 Her brothers Gabe Brown and Noah Brown, are married. Rain Brown's other two brothers Matt Brown and Bam Bam Brown, have a girlfriend. Her brother Bear and sister Snowbird are both single.
Rain Brown hometown.
Rain was brought up in Hoonah, Alaska, USA. She is homeschooled by her mother, which she liked. According to her, the concept of being involved in the studies is what she likes about homeschooling. She doesn't have to listen, and she can also speak, which makes her feel involved and more engaged in learning.
Every member of the Brown family is skilled to survive in the wild and Rain is also learning those skills. The Brown family lived in isolation away from the civilization in Chicago Island, but now they are in Okanogan County, Washington. They moved from the Hoonah, AK, because their house was deemed to be in a public place and was torn down.
Right now, the whole family lives in their property in Okanogan, which is vastly covered by trees. They are still living pretty far from normal civilization. Due to their isolation, they have developed an accent unique to themselves only. They occasionally do visit the town near to them for their necessities.
Rain Brown Net worth and salary
The 17-year-olds revenue is estimated to be between $8k and $15k per episode, due to the popularity of the show. Rain Brown net worth is estimated at $100k. Her earning are from the show Alaskan Bush People.
The Brown families estimated net worth is $60 million as a whole, including their 500 acres of land. Billy Brown and Ami Brown earn a staggering $500k wage.
Snowbird makes and estimated revenue of $60k per year. Bam Ban Brown is worth $300k while Noah brown earns $65k from the show yearly. All remaining members of the family average around the net worth of $150k each.
Rain Brown Gay?
Rain Brown has taken to the social media to point out that she is straight replying to a comment on her Instagram post, asking if she is gay? She replied,
"No, I'm straight. And I call my fans rainbows because my name is Rain, but you do you boo."
On a different post, a different person asked Rain is she had come to terms with her sexuality and Rain replied,
She was suspected to be gay due to her calling her fans Rainbow, which she clarified that she calls her fans Rainbow because her name is Rain.
After making it clear that Rain isn't gay, she posted a picture of her on 15 March 2018 teasing the possibility of having a boyfriend, with the caption,
"Sometimes, all it takes is one special person, and suddenly, the world doesn't seem so bad anymore."
As of right now, she isn't in relation. She gives the same reason for why she is not in a relationship as for why she wasn't pregnant, a previous rumor, i.e., she is too young, and it gets in the way of what she wants to do and is doing.
Age, Wiki,
She is currently 17 years old and celebrates the birthday on November 23.
Youngest Alaskan Bush People Kid is open with her fans and doesn't let any rumors dictate her way of living.
The rumor about her being gay was swatted down pretty quickly as she took to reply to a fan on Instagram asking if she was gay, where she replied she is straight and explained her reason for calling her fans rainbow, which was the reason peoples thought of her to be gay.
Born and raised on Hoonah, AK, the USA for her early childhood as the youngest child of the Brown Family, everyone loved her. Rain Brown is very vocal about her support for the LGBTQ society and gender equality/neutrality as she takes to social media to address these points.
Her current net worth is $100k, and she might earn a salary of $40k to $60k per episode of the reality TV show Alaskan Bush People.
What is Rain Doing now?
Rain is just living a normal life for now, and she has appeared in season 10 of Alaskan Bush People. The youngest in The Alaskan Brown Family is fairly active on her social media, mainly on Instagram. She posts the picture of her posing with her pets or traveling or events in her life.
QNA
Rainy is currently 16 years old.
What is Rain Brown's full name?
Rain Brown's Full name is Merry Christmas, Katherine Raindrop Brown.
No, She isn't
Interesting Facts About Alaskan Bush People Rain Brown.
Rain Brown was born on a Saturday.
Rain's sign is Sagittarius.
Rain has a staggering 146k followers in Instagram, which seems only to be increasing.
Even born in the bushes, Rain is very fashion conscious and likes to keep clean.
Alaskan Bush People Rain has a motto of "Stay strong."
Brown's family has two pets, a cat name B and a dog named Jackson whom she calls pooch as the character from the movie Once upon a time.
Rain has a celebrity crush on Colin O'Donoghue, Once Upon a Time
Originally posted on December 5, 2019 @ 10:14 pm