As a certified animal trainer, Brandon McMillan knows how to tame all sorts of animals, including dogs, big cats, bears, and so much more. Some even call him the animal whisperer, judging on how he handles the pets and how they respond to him. Most celebrities such as Ellen Degeneres, Kate Hudson, Chris Hardwick, and many more have him on speed dial after having trained their dogs. To find out how he came to sharpen his skills, you'll have to read through our highlight on Brandon McMillan's net worth. Know if Brandon McMillan is married to a wife or dating a girlfriend?
Who is Brandon McMillan?
Brandon McMillan is a 42-year-old American animal trainer and television personality from Trenton. He was born on April 29th, 1977. You will find out all about his antics on Lucky Dog, a show on CBS that showcases all his dog training techniques.
Moreover, it is from this that he won three Emmy Awards for Best Host and Outstanding Special Class Series. Nonetheless, if you're not much of a couch potato, you can also read all about his skills. The dog trainer is a well-known author having written Lucky Dog Lessons: Train your Dog in 7 Days.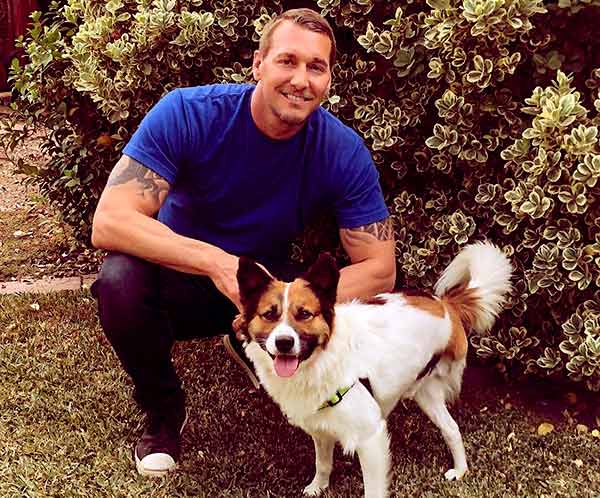 Brandon McMillan Married? Meet his Wife-to-be Girlfriend Alanna Lynn Polcyn.
If there are two things Brandon McMillan is good at, it's handling pets and keeping his personal life a secret – or so he thought. Most sources point out that he's single when in the real sense, he's had a partner as early as 2015.
We dug around his social media and found him cozying up to a woman named Alanna Lynn Polcyn. The post-dated back in November 23rd, 2016. The caption marked their anniversary while he referred to her as the one who puts up with him through thick and thin. This also meant that they had been seeing each other for over a year.
https://www.instagram.com/p/BNIEiPgA3bQ/
Fast forward to April 2018, when he won his third Daytime Emmy Award, Brandon McMillan's wife to be girlfriend was also by his side to congratulate him. So who exactly is this mysterious woman? Brandon McMillan's girlfriend is also a dog lover and founded the Los Angeles based People Loving Pets Rescue service.
Is Brandon McMillan gay?
For the longest time, many people thought he was gay owing to the absence of his female significant other. Some even encouraged him to come out through social media. However, the truth is the Lucky Dog cast doesn't have a gay bone in his body. He is happily dating the girl of his dreams but in secret.
Brandon McMillan Net Worth.
The TV star's journey to establishing his net worth began while he was 18 years old when he moved to Los Angeles to live with his uncle. Brandon comes from a family of animal trainers and his uncle owned, Hollywood Animals – the institution famous for training most of the animals you find in films.
While traveling across the globe while researching on nocturnal behaviors in some animals, executives from Animal Planet approached him with a proposal he couldn't refuse. The 42-year old Brandon Lucky Dog cast McMillan his television debut on the series, NIGHT back in 2009. A year later, he opened up his dog training facility that shot his career and net worth ten folds.
As a result, Lucky Dog was adapted by Litton Entertainment with Brandon at the helm of the show. After working several cases in over 30 countries, it's safe to say that the TV star has a natural talent in training animals. With this in mind, sources point out Brandon McMillan's net worth reaches approximately $5 million.
Brandon McMillan Other facts.
Did you know that the three-time Emmy Award winner is also an excellent scuba diver and surfer? Aside from Lucky Dog, Brandon McMillan also hosts Great White Serial Killer, a show about shark attacks on Discovery Channel. He also appears on another documentary called the Great White Abyss that sees him risking his life to film killer sharks. It's with this reason in mind that he lives in two cities bordered by a coastline; that is Los Angeles and New York.
Other hidden talents by the Lucky Dog cast includes his work as a Brazilian Jiu-Jitsu practitioner. He is also a philanthropist who co-founded the Argus Service Dog Foundation. It's a program aimed at training service dogs to help disabled war veterans.
Social Media Activities.
Brandon McMillan is obsessed with dogs, traveling, and above all else, spending time with his family. His social accounts are a true reflection of this with pictures of his two dogs – Lulu the Chihuahua and Koda the flat-coated retriever. He also promotes his shows and self-titled podcast on Apple Music, Google Play Music, and Spotify. With over 104K followers on Instagram, it is clear that he commands a great fan following.
https://www.instagram.com/p/B-m67sIjC9D/
Originally posted on April 12, 2020 @ 1:53 pm