Lincoln was born on November 17, 2010, to his celebrity parents Bryan Baeumler and Sarah Baeumler. He is the third born child of the Baeumler couple. 'The little man,' as his father Bryan calls him, is a sweet, funny child. Lincoln also features as a cast member of the TV show 'Renovation Island' with his parents and siblings. The show premiered in June 7, 2010.
This article provides a short biography of Bryan Baeumler's son, Lincoln.
Lincoln Wolfganger Baeumler Biography
Lincoln is a creative little guy who daydreams of becoming a builder like his father. Furthermore, Sarah's Instagram posts occasionally feature her little boy's building skills.
Despite being just 10-years-old, Lincoln is a creative kid. He is also fond of collecting seashells and other unique things in the Island. In this Instagram post, we can see Lincoln making sculptures out of his collections. He amazes his parents with his creativity time and again.
Talking about his education, after the family moved to the Bahamas, Sarah is home-schooling her kids. Lincoln lives with his parents and siblings lives at their newly renovated resort Caerula Mar Club. He loves playing with his siblings especially running behind his elder brother Quintyn Baeumler.
Lincoln Wolfganger Baeumler is also his brother Quintyn's no.1 supporter and fan. Bryan has recently posted a picture of the two brothers with the hashtag BrotherlyLove during their vacation in Florida. In the picture, the brother's duo is ready for diving and swimming at the 'Shark Wake Park.'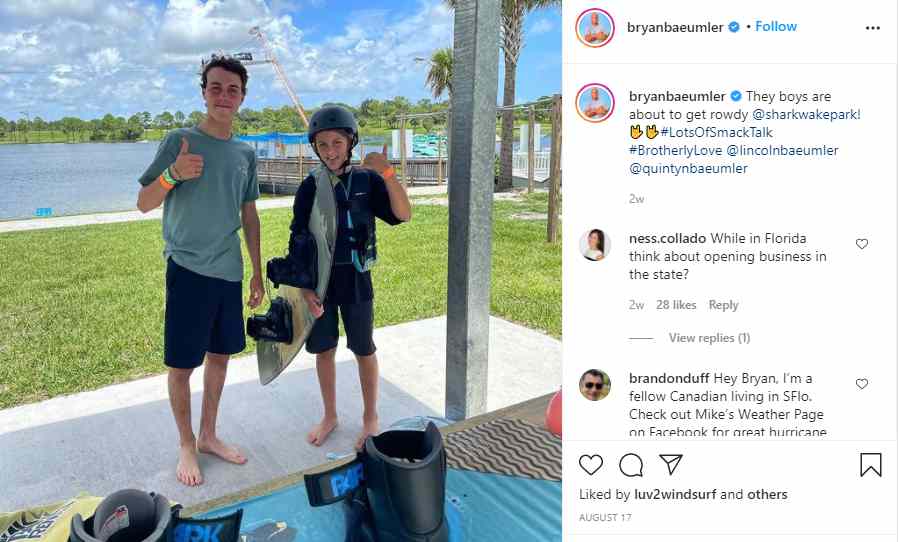 The 10-year-old has an Instagram account named @lincolnbaeumler with 50 followers. He does not have a single post on his account to date. However, he regularly features in his parent's Instagram and Facebook posts.
Originally posted on September 13, 2021 @ 6:55 pm