Quintyn Baeumler is the firstborn child of the popular Canadian TV host of the HGTV Network, Bryan Baeumler. He loves animals and is passionate about horse riding. Furthermore, Quintyn learned to ride horses at the age of 10 and is a trained equestrian. At 14 years of age, he is a horse riding professionally at the junior level. Quintyn has also participated in multiple horse riding shows in Canada. Additionally, he represented Canada in 2021 at FEI North American Youth Championship from the Pre-Junior division.
In this article, we provide a short biography of Quintyn Baeumler.
Quintyn Werner Baeumler Biography
The teenage equestrian was born to a family of Canadian television celebrity Bryan and Sarah Baeumler in 2006. However, he has not revealed his exact birthdate. Quintyn has three siblings, one brother, and two sisters. He is the eldest of his parents' four children.
Moving on to his education, after moving from Ontario to the Bahamas, Quintyn attends a boarding school. Even at boarding school, he underwent equestrian training with his coach Erika Adderley.
However, the school is just about a 20-minutes flight distance from his home in the Island of San Andros. He got involved in the world of riding from an early age, and at just 14, he has accomplished a lot. Bryan is proud of his eldest and recently congratulated him on his success at the 2021 FEI North American Youth Championships with a post on Instagram.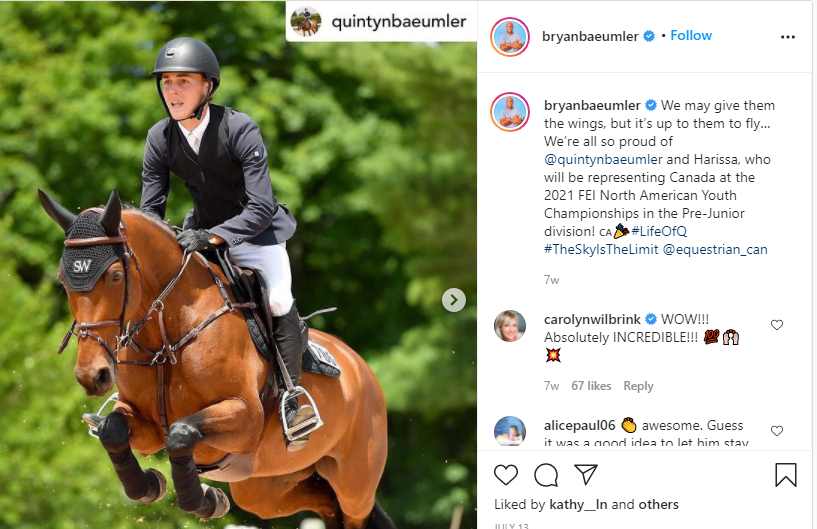 Trained under Scott and Dee Walker, Quintyn Werner Baeumler is a very hard-working and enthusiastic young man. Furthermore, Quintyn has participated with his horse Harissa and Clintour in 'Traverse City Horse Shows,' 'Winter Equestrian Festival,' 'Royal Agriculture Winter Fair,' and other national level championships.
Furthermore, the young athlete is active in social media with his Instagram account @quintynbaeumler. He already has over 5.2k followers. Besides, Quintyn is so much into sports that his Instagram features only the pictures of his horse-riding events.
Originally posted on September 13, 2021 @ 6:45 pm