Fred Lewis is a gold miner, adventure enthusiast and television personality. He joined Parker and Sam's team slightly under a year ago and has been a revelation ever since. Fred's credentials include certification as a Green Beret medic. It has made him adapt to some of the harshest environments imaginable. He also served in the military, and this enhanced not only his awareness but his toughness overall. Fred is a welcome addition to the mining team. You'll get to read every interesting aspect of Fred Lewis' life we could dig up in this review.
Who is Fred Lewis?
Fred Lewis is a reality star who features on the show Gold Rush: Parker's Trail. It follows Rick Ness and Parker Schnabel as they go on a new and exciting adventure.  The team set out to conquer the Klondike trail, venturing over the Yukon River and eventually Dawson City.
It first aired back on March 24th, 2017. After three years, fans have been privy to four seasons and twenty-six episodes. Fred made his first appearance on the show a year ago, in an episode titled 'Dangerous Depths.' He is listed as a Special Forces Medic.
Fred's experience with the military proved invaluable as he was brought to head the gold mining team's security. In addition to this, he was also trained to take care of a few medical problems that can arise on the adventure.
https://www.instagram.com/p/B7cGPRpHq8x/
Well, before the Discovery Channel came calling, Fred Lewis from "Gold Rush" worked as a US Army Special Forces Medical Sergeant.  He traveled all over the world: delivering babies, treating the sick, and even pulling teeth. Prior to this, the reality star also had a stint as a Korean Linguist in the Army. It was a job that suited him perfectly as he is multilingual.  Fred can speak four languages; English, Korean, German and Norwegian.
In an interview he did after joining the cast of Gold Rush, Fred talked about how the series revived him. His team in the army changed him, as he came back unable to reconnect with people. It all came down to missing the structure and routine that military life brought. After leaving, Fred Lewis developed a sense of purposelessness. He has been doing better ever since he joined the team.
Fred Lewis' Age, Date of Birth.
Fred Lewis was born in 1977 in Maine. At the point of writing, Fred is 42 years old.
Fred Lewis' Net Worth.
The former military man is a recurring star on the Discovery Channel Network. So far, he has starred on two different Gold Rush spinoffs. However, Fred Lewis' net worth is something that is still under review. It is not surprising as he only started appearing on television last year.
Is Fred Lewis married?
Fred Lewis is indeed a married man. The 42-year-old ex-military man is married to a woman named Khara Lewis. She just celebrated her 40th birthday recently. They have been married for fourteen years by our count, dating all the way back to 2006. The happy couple has four children together; two boys in their twenties, and two teenage daughters.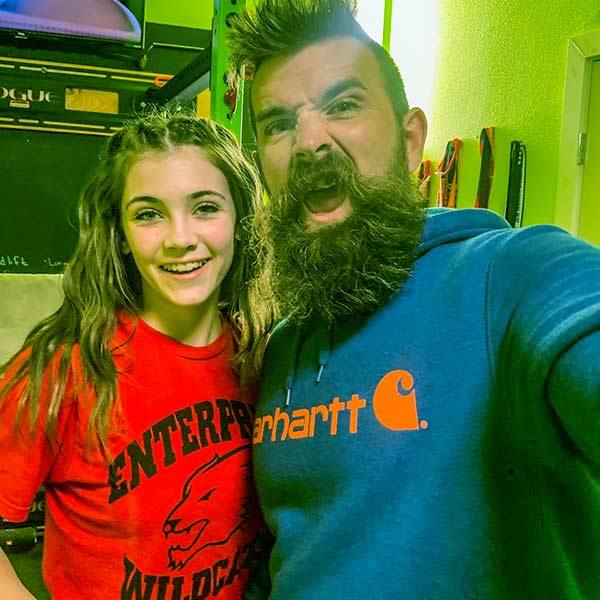 A look at Fred Lewis' Social Media.
Fred Lewis is fairly active on Instagram, where he has over 7,000 followers. It is a number that is guaranteed to soar as his popularity grows. Most of his posts focus on his fitness exploits. It shows that Fred is very fit, even in his 40s. One post even had him squatting a lot of weight. We also learn that Fred Lewis from "Gold Rush" is very close to his daughter, Emma, whom he regularly works out with.
https://www.instagram.com/p/B-llMhPn-UK/
Fred Lewis' wiki-bio.
| | |
| --- | --- |
| Full name | Fred Lewis |
| Age | 42 years old. |
| Date of Birth | 1977 |
| Place of Birth | Maine, USA. |
| Profession | Us Army Special Forces Medic, security personnel, reality television personality |
| Net worth | Under review |
| Partner | Kharma Lewis |
| Kids | 4 |
| Nationality | American |
| Ethnicity | Caucasian |
| Zodiac Sign | Under review |
| Parents | Unknown |
Fred Lewis traveled the world with the military before switching to television. His childhood and early life are some of the things he barely talks about.
Originally posted on April 11, 2020 @ 1:06 pm