Chip Foose is a revered automotive illustrator, product designer, artist, and fabricator – at least that's how he describes himself on Twitter. This is the guy that helped design Disney & Pixar's Cars and Cars 2 movies. However, when he's not too busy at the helm of the Velocity channel's reality series, Overhaulin, this Foose is always busy with his family. Check out Chip Foose's net worth, houses, cars, and most importantly, his wife, Lynne Foose, right here.
Chip Foose Tv Shows and Business.
Some of the greatest contributions from Chip Foose are his artwork in automobiles. In return, he was the youngest inductee into the Hot Rod Hall of fame at age 34, and the Darryl Starbird Rod & Custom Car Museum Hall of Fame five years later. Similarly, he also made it onto the Grand National Roadster Show Hall of Fame at age 40.
Chip Foose's popularity soon rubbed off on production companies who wanted to make him a star on television. As a result, he made his debut on Titus back in 2001 as a consultant.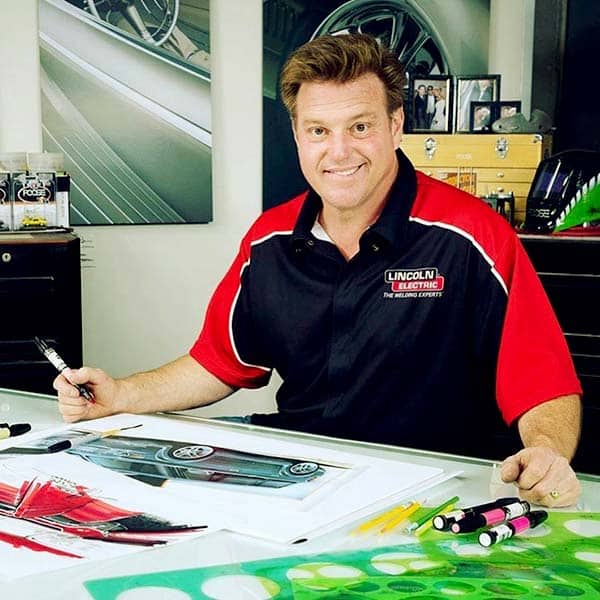 This was gradually replaced by his role on Overhaulin' – a position he has held since 2004. Once that got his career up and running, the car designer went on to host American Icon: The Hot Rod, Ultimate Car Build-Off, Rides, and Chasing Classic Cars.
https://www.instagram.com/p/B9xImEZhdNI/
In retrospect, it all started back when he was nine years old when his late father, Sam Foose, gave him a wrecked Volkswagen. This became the origin story to set up Foose Designs in Orange County, California, back in 1998 after the deal with Hot Rods by Boyd went sour. On the side, he offered his consultancy services in design to different clients – a practice he upholds till today as well as starting a die-cast business in 2006.
Chip Foose Net Worth: $18 Million.
Working as a famous automotive designer has never been better for Chip Foose ever since he decided to go solo. He began his financial journey as a hot rod shop owner and designer for Hot Rods by Boyd. However, after the company fell, he went solo and got the exposure he needed.
Factoring in all his television appearances, and the money he got from his company, Chip Foose's net worth holds strong at approximately $18.5 million. You can tell how rich he is by the lifestyle he upholds.
Foose's continued efforts in giving back to the community through donations also show how much money he has to spare. He is a regular donor to Childhelp and Victory Junction Gang Champ as well as the Vice-chairman of the Progeria Research Foundation in California.
Chip Foose Cars.
Aside from the Volkswagen he got as a gift from his father, Chip Foose has designed very many cars. These include the Boydster and Boydster II models, 0032 Roadster, and a modified 2002 Ford Thunderbird, which he called Speedbird.
The TLC star's other modifications also landed on the 1969 Camaro, Hemisfear, and Mustang Stallion. Some of these limited edition Hot Rods he sells while others are cooped up as antiques in his garage. Foose drives a 2006 Ford GT, a gift from his wife on his 50th birthday.
It's a full house today at #Foose Design. pic.twitter.com/K4aFncqOmm

— Chip Foose (@chipfoose) February 25, 2016
His House.
Aside from cars, the car designer also invested his time in his residential home in Huntington Beach, California. Though we cannot disclose his home address for privacy reasons, we can report that his garage takes up a huge proportion of his living space.
Chip Foose is Married to wife Lynne Foose.
Chip Foose is a huge recipient of love from his wife and longtime partner, Lynne Foose. She has been with Chip through thick and thin ever since his college days when he didn't have the cash to finish school. Other than his father, Lynne was the only other person who saw potential in Chip and helped him start their business in the late '90s.
Therefore, it doesn't come as a shock that Chip married her back in 1991 after only dating her for one and a half years. Nonetheless, money woes weren't the only problems he couple faced.
There was a rumor that Chip cheated on his wife Lynne, but this was never proven. Moreover, Lynne once threatened to divorce him if he didn't allocate more time to his family than his business.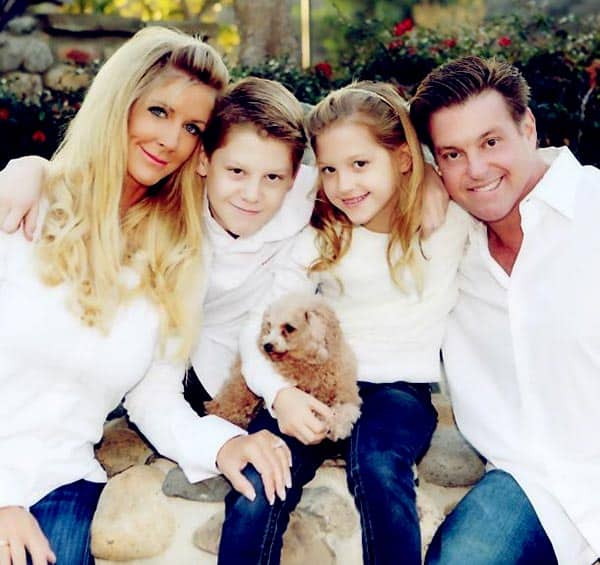 Owing to the fact that they are still together, you can easily guess which path he chose. As for kids, Lynne is not only Chip Foose' wife, but also the mother to their two kids, Brock and Katie.
Lynne Foose Age, Wiki, Biography.
| | |
| --- | --- |
| Name | Chip Foose |
| Profession | Automotive illustrator, Project Designer, Artist and Fabricator |
| Wife | Lynne Foose |
| Age | 56 |
| Birthdate | October 13th, 1963 |
Chip is the son to the late Sam Foose and Terry Foose. Born on October 13th, 1963, in Santa Barbara, California, he grew up watching his father man the family's car shop, Project Design. His mother was a humble housewife back then.
As a young lad, he enjoyed tinkering with cars by his father's side. Thus, when he became of age, he wanted to further his studies by enrolling at a local community college to study Art and Design. However, due to a lack of adequate finances, he dropped out and worked at Clenet Coachworks.
Four years later, his wife Lynne Foose coerced him onto finishing school. This would later aid him with his employment at Hot Rods by Boyd. From there, the rest of the events slowly unfolded into his career and the successful man he is today.
Social Media Activities.
To give you a straight forward look into Chip Foose's reach, he currently has 1.2 million followers on Instagram and 159.4K Twitter followers. When he's not promoting the show Overhaulin' or showing off different designs, the car enthusiast promotes himself through the sale of his merchandise found here. We also found out about his personal relationship with his father when he announced his death on Facebook and Instagram on November 29th, 2018.
https://www.instagram.com/p/Bqvfb5EFxdx/
Originally posted on April 2, 2020 @ 7:30 am