Christina Helen Johanne Trevanion AKA ChristinaTrevanion is a famous British auctioneer and television personality who is expertise in presenting a BBC TV program, Bargain Hunt. The program shows where the contestants buy and sell their auction antiques at the highest profit.
Christina Trevanion' Husband And Married Life
The 38 years old auctioneer has tried her best to keep her personal life away from the media. But, while surfing around her Bargain Hunt profile, she mentions herself as a married woman.
However, the intensely secretive television star did not mention any details of her husband. She even did not reveal the name of her spouse. Likewise, she did not specify when and how they tied the knot.
Talking about Christina's children, the couple is blessed with two children in total. They share two daughters. Just like how Christina kept the details of her husband away from the media, she also did not mention anything about her daughters.
Keeping every personal life away from the media, Christina and her husband enjoy a healthy marital life with no issues of divorce ever broadcasted in the media. The secretive pair have neither been dragged to any controversies nor any issues of extra-marital issues.
The family of four, along with their pet dog Welly, enjoy the quality time together.
Christina Trevanion' Age.
ChristinaTrevanion was born on 12th June 1981, and is 38 years old, as of 2019.
Christina Trevanion' Weight Loss.
A year ago, Christina shocked her fans posting a picture on her Twitter account, where she flaunted her evident weight loss. She has worked hard to shed a couple of pounds off her body and looked slimmer than ever.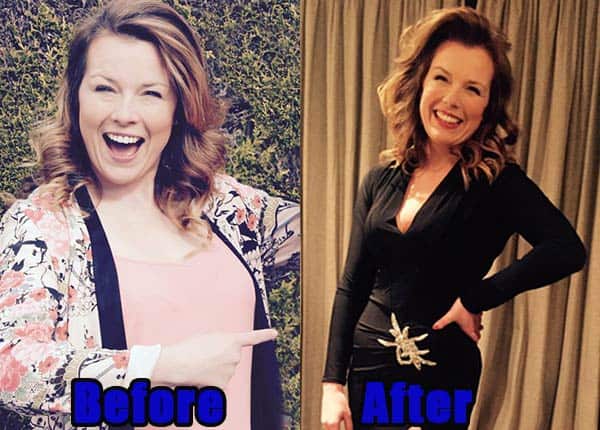 Soon after posting the video, her fans showered her with positive compliments claiming how healthy she looks.
However, Christina did not mention how much weight she has put off and what she did for it. Her incredible weight loss transformation is often praised on the media.
Christina Trevanion Career As An Auctioneer And Television Star.
Christina's fantastic auctioneer skills can be seen while presenting a BBC TV program, Bargain Hunt. She made her involvement in the show in 2013, around thirteen years after the show made its debut.
As a part of her television career, Christina has featured in numerous BBC television programs like Flog It, Antiques Road Trip, and Put Your Money Where Your Mouth Is.
Christina is also an antique expert who is specialized in jewelry, silver, glass, ceramics, and glass.
Other than this, Christina and her business partner, Aaron Dean, are the owners of Trevanion and Dean Auctioneers and Valuers. The company conducts auctions of numerous antiques, collectibles, and fine arts.
Christina Trevanion' Net Worth.
Being active in a dual professional career for a long time, Christina has collected a high figure of money.
As mentioned above, Christina is extremely secretive when it comes to her personal life. Likewise, she also did not mention the exact figure of her net worth.
However, a couple of sources have mentioned that her net worth in 2018 was $700 thousand. As of 2019, her net worth has increased and reached $1 million.
Her auctioning and television career is the primary sources of income. Similarly, as she is the owner of Trevanion and Dean Auctioneers and Valuers, she earns a hefty amount of money from it.
During their 15th July auction, they became successful to sell $61, 652 worth medal collection. For each item sold, Christina and her partner have been profited in bulk.
Christina Trevanion' Wiki And Other Facts
The 38 years old television star ChristinaTrevanion's full name is ChristinaHelen Johanne Trevanion. The name of her parent is father David Trevanion and mother, Hazel Trevanion. She has two sibling-sisters whose name is Nicola Trevanion and Morwenna Trevanion.
Regarding Christina's parents, her mother is a florist and auction enthusiast. It was Christina's mother who introduced her to the antique world. She even started attending auctions at a young age.
Before officially starting her profession working in numerous auction houses, she studied at Fine Arts Valuation. She, however, later settled up her own in Whitchurch.
Originally posted on December 24, 2019 @ 6:40 pm