Parker Schnabel is a 25-year-old gold miner and adventure enthusiast from Haines, Alaska. He stars on the reality series 'Gold Rush.' It is on this stage that his friendship with Tyler Mahoney blossomed. Like Parker, Tyler is also a gold miner by profession. Her love for gold dates back to her childhood days when her parents took her along on one of their hunting trips. Rumors began circulating about the possible romance brewing between Parker and Tyler. Are the rumors true? Find out right here. We will also examine Tyler Mahoney's bio in extensive detail. Is Tyler Mahoney Married?
Who is Tyler Mahoney?
Tyler Mahoney is a prospector and reality television star who we were introduced to on 'Gold Rush: Parker's Trail.' The Discovery Channel network follows Parker, the man she is rumored to be dating, and the rest of the team.
They are out on an adventure across the Yukon River. So far, the series has four seasons. Tyler has appeared on four episodes so far. Her first episode was titled 'Hunt for New Ground,' and it aired on March 13th, 2020. Producers were so pleased with her work that they brought her on to feature on the spinoff 'The Dirt.'
Tyler was introduced to gold hunting by her parents. Gold prospecting in her family goes all the way down to four generations. Tyler's parents took her across the country in search of riches and treasure.
It came when Tyler found a five-ounce gold nugget. According to an interview she did recently, Tyler jumped up and down and went to look for her parents in the bushes. She eventually sold the nugget and used the money to buy a few new outfits for herself.
Another great find came in the form of an antique fob watch. In addition to prospecting, Tyler is also a jewel designer. She is also listed as the founder and director of the Prospector's Club.
Tyler Mahoney's Age, Date of Birth.
Tyler Mahoney was born in 1997 in Kalgoorlie, Western Australia. As of 2020, she is 23 years old. The exact date of her birthday remains unknown at the point of writing.
Tyler Mahoney's Parents.
Tyler is the daughter of Ted and Lecky Mahoney. Both of her parents are gold prospectors. They also appear alongside Tyler on the Discovery Channel show, 'Aussie Gold Rush.'
Tyler Mahoney's Net worth.
The 23-year-old Aussie gold miner manages her family's store in Kalgoorlie.  They handle the buying and selling of gold nuggets. She additionally owns Mae by Tyler, a Jewelry and clothing store. They recycle plastic and other materials from the ocean to make swimsuits and ornaments. Despite all of these ventures, Tyler Mahoney's net worth presently remains undisclosed.  We will keep you posted with any new information.
Are Parker Schnabel and Tyler Mahoney from Gold Rush Dating? She is Not Married.
It is a question that has been on the minds of quite a few people lately. Some fans of the gold rush even took to social media to ask Tyler if she was intimately involved with Parker.
The two have grown very carefully throughout the episodes they starred in together. Even on social media, you can find a lot of pictures of Parker and Tyler. Some say they are just promoting their reality show; others say that it hints at a much deeper relationship.
So which is which? Before we answer this, it will be prudent to note that Tyler was also linked to Jack Lathey. Pictures of the two can also be found on social media. In their pictures, Tyler refers to Jack as 'babes.' Some people use it randomly, though, so we cannot take this as confirmation.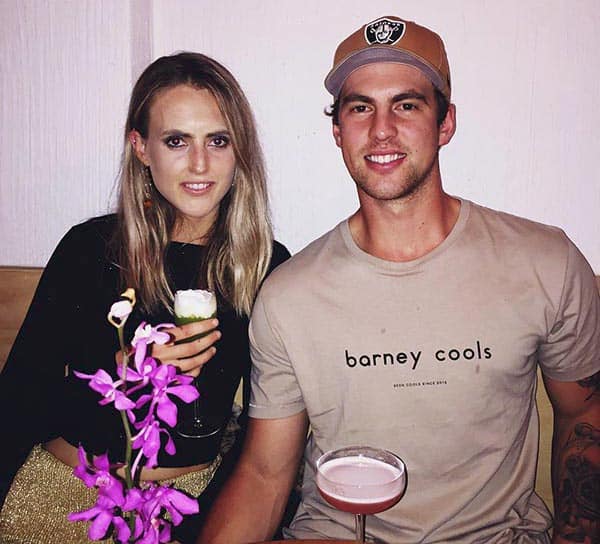 It is a term of endearment usually reserved for spouses. Much like with Parker Schnabel, however, Tyler did not confirm that she was dating him. For all we know, they could just be friends.
Moreover, her Facebook page says that she is currently single, so this could be an indicator that all the men she is linked to are just her friends. We will keep you updated on any new developments. Hence, we can conclude Tyler Mahoney is not married to anyone yet.
A look at Tyler Mahoney's Social Media.
Over the years, Tyler Mahoney has gotten very popular on Instagram. Presently, she has 23.3 K followers. Her page lists her as the director of the prospector's club.
There is a link that takes us directly to her club's website on her page. We learned that prospecting is something that Tyler has 15 years of experience with. She started relatively young, at just eight years old. The site offers its members advice and key insights into the word of prospecting.
From a few posts on her page, we also learn that Tyler Mahoney is a dog lover. She lives with two at her house in Grass Valley. Her most recent post was a promotion she did for the prospector's club. On it, she offered her followers the chance to win a brand new truck.
https://www.instagram.com/p/B88eOxvH-E8/
Tyler Mahoney's wiki-bio.
| | |
| --- | --- |
| Full name | Tyler Mahoney |
| Age | 23 years old. |
| Date of Birth | 1997 |
| Place of Birth | Kalgoorlie, Western Australia |
| Profession | Gold Prospector, Television Personality, Business Owner |
| Net worth | Under review |
| Partner | Single |
| Kids | 0 |
| Nationality | Australian |
| Ethnicity | Caucasian |
| Married or single? | Single. |
| Parents | Lecky and Ted Mahoney. |
Originally posted on April 11, 2020 @ 2:05 pm