Roger Barr is a car specialist and television personality on the Discovery Channel network. He was just six years old when he decided to learn about cars. To that effect, his father pointed him towards a bookshelf and told him to read. Despite being dyslexic, he managed to learn how to read.
When he was older, his parents moved him to Paterson Tech so that he could pursue his ambition to be an aviation mechanic. Find out what happened to Chasing Classic Cars Roger. Is he dead?
Who is Roger Barr?
Roger Barr is a mechanic and reality star who appears on Chasing Classic Cars. The show introduces as to Wayne Carini, a skilled car restorer, and Ferrari expert. It gives fans an insight into some of the most expensive and rare cars in America.
The host and his team set out to refurbish old cars before selling them. Besides the beautiful visuals, we also get a look at the history of various vehicles. We were first treated to Chasing Classic Cars on June 3rd, 2008. A twelve-year run has seen the show go on for an impressive fourteen seasons! In the process, it has aired over 190 episodes.
Of the 190, Roger Barr has featured on 41 episodes. His very first came on the 2008 episode titled 'Internet Flips and Finds.'
The Chasing Classic Cars star Roger displayed an interest in auto-mobiles back when he was about five years old. He found himself frequenting a local garage whenever he could. Joe's Garage was perhaps the most reputable garage in Staten Island at the time.
All the most exotic cars, ranging from Cords to Packards, made their way to the auto-shop. Notably, he was also called up to serve time in the military when he was older. The call came during the Korean Conflict. Luckily, it was one he did not have to answer.
Several years working as a mechanic abroad, building '34-Fords and ancient V-8s, gave him the experience he needed to work at Pratt & Whitney.
Chasing Classic Cars Star Roger Barr's Educational Background.
The Discovery Channel Mechanic is a former student of Paterson Tech. Back in the day, it was one of the most top-rated institutions for anyone who wanted to take up an occupation as an aviation mechanic. The school was in New Jersey, so his family had to move from Long Island.
To get to his dream college, though, Roger had to raise the tuition money, $450, on his own. Some of the jobs he took on involved watching other kids for 75 cents an hour. In 1953, the Long Island-born reality star graduated from the institution with an A&E license.
It enabled him to work as an aircraft mechanic in Germany.
How old is Roger Barr?
Sources say that Roger Barr is 84 years old as of 2020. It means that he was born back in 1936 in Long Island. A little bit of digging, and we learned that he was born on the 15th of February, which makes his star sign Aquarius. Details about his early childhood suggest that he had dyslexia, a learning disability.
Roger Barr is Married To Wife Susan Barr.
Yes, Roger is married to a woman named Susan Barr. She was born in Middletown, Connecticut. Her educational background includes a stint at Ellington High School, which she graduated from back in 1964.
After this, she enrolled at the Chamberlayne Jr College Boston Mass. Here, the future Mrs. Barr took a course in Interior Design, laying the foundation for her long tenure at Ursels Web Art Gallery & Frame Shop.
Much of the details regarding her relationship with Mr. Barr are not available. We were, however, able to learn that they had two children together. One of them was a son name, Jim Barr.
In addition to this, we also found out that the couple celebrates their anniversary on the 16th of December, the date of their wedding.
Is Roger Barr Dead?
The simple answer is no. So, where did these rumors come from? Well, after Roger stopped appearing on television, several fans began to worry. As usual, stories around his absence started making their rounds. The truth is, the Chasing Classic Cars host and mechanic got into a work-related accident at F40 Motorsports.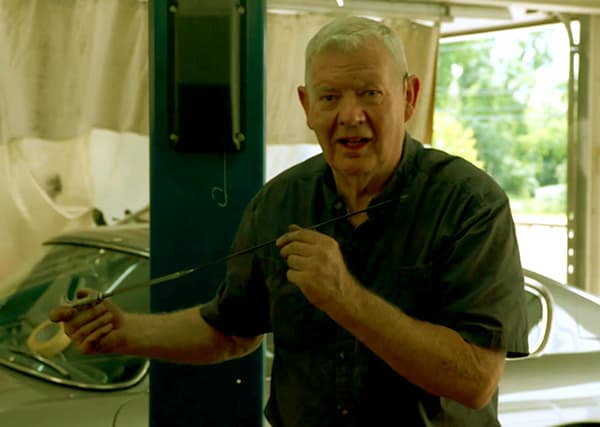 Roger Barr took some time off the show to recover. We remain positive that he will be back soon.
Roger Barr Wiki-bio.
| | |
| --- | --- |
| Full name | Roger Barr |
| Age | 84 years old |
| Date of Birth | 15th February 1936 |
| Place of Birth | Long Island, U.S.A |
| Profession |  Reality television Personality, Former Aviation Mechanic, Auto-body restorer |
| Net worth | Under review |
| Wife | Susan Barr |
| Kids | 2 |
| Nationality | American |
| Ethnicity | Caucasian |
| Zodiac Sign | Aquarius |
| Parents | Under review |
Originally posted on May 1, 2020 @ 9:09 am