Victoria Stilwell is a renowned English dog trainer, television personality, and author. She is best known for her work on the hit reality dog training show, It's me or the dog, which airs on Animal Planet. It showcases her helping families that own dogs solve their pets' behavior problems through her effective methods.
Her training method is very appealing and offers better long term behavioral change to troubled pets. This is because she uses new techniques based on modern behavioral science that involve positive reinforcement as opposed to the conventional dog training methods that employ fear, domination, and intimidation to train dogs.
Victoria Stilwell's Marriage.
The English actress is married to the actor, Van Zeiler, and they have one daughter. Victoria met her husband in production in the West End theatre, and she was a co-star with him on the set of Buddy – The Buddy Holly Story. She and her family live in Atlanta, Georgia, USA.
They got married in May 15th, 1999. They seem to have a happy marriage as Victoria's social media posts suggest. In November 13, 2012, which is her husband's birthday, Victoria posted the following on Facebook, "Happy Birthday to my beloved husband.
He is a wonderful husband, father, friend, and business partner, and I'm the luckiest person in the world to have him in my life." Victoria being a dog lover adopted first adopted a chocolate Labrador named Sadie.
Sadie, unfortunately, died in 2018 at the age of 15. The actress also has another adopted dog named Jasmine, who is a Chihuahua/Miniature Pinscher mix. After Sadie's death, the English star adopted an elderly mixed breed dog, Bella.
Van Zeiler bio.
Van Zeiler is a businessman, actor, and author. He is married to Victoria Stilwell, a world-renowned dog trainer. The writer met with his wife on the set of Buddy- The Buddy Holly Story and married her afterward.
He has a daughter with his wife, and they live in Atlanta, Georgia, USA, with their two dogs. He and his wife co-founded several dog training companies in the East Coast when she first moved to the United States. Victoria Stilwell's husband Van Zeiler, is also an author at Victoria Stilwell Academy for Dog Training and Behavior.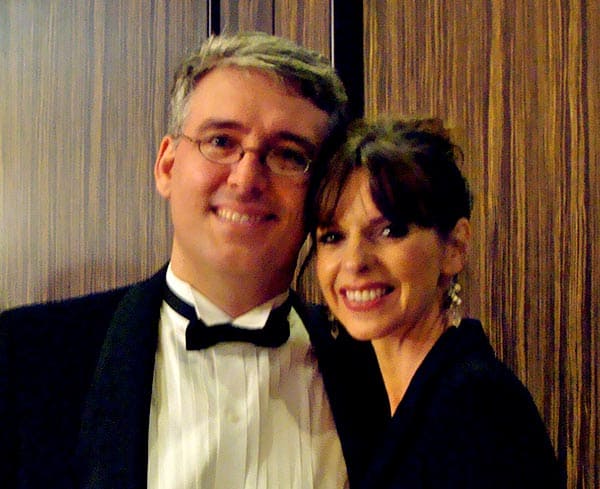 Van Zeiler was also a successful actor.  In August 17 to September 11, 2004, Van Zeiler did a musical produced by Brown-Forman.
Currently, Van helps his wife run her companies. He is the CEO of the Victoria Stilwell Academy and also serves as the Director of Marketing and Business Development for the Victoria Stilwell Positively brand.
Van is also a Vice President of Victoria Stilwell various entities. He is responsible for growing the Victoria Stilwell brand on mass media platforms such as television and video, digital platforms, and also in licensing.
Victoria Stilwell's Daughter Alex Zeiler.
Victoria and her husband have a daughter together, Alex Zeiler. They live with her and their two dogs in Atlanta, Georgia, in the United States. In her blog that is hosted on her website, positively.com Victoria mentions that March is a special month to her because that is the month in which her daughter was born.
She writes, "I love spring. It begins for me as soon as the dreary winter months of January and February are over. March is my favorite month not just because things feel new and fresh but because it was the month when my daughter was born."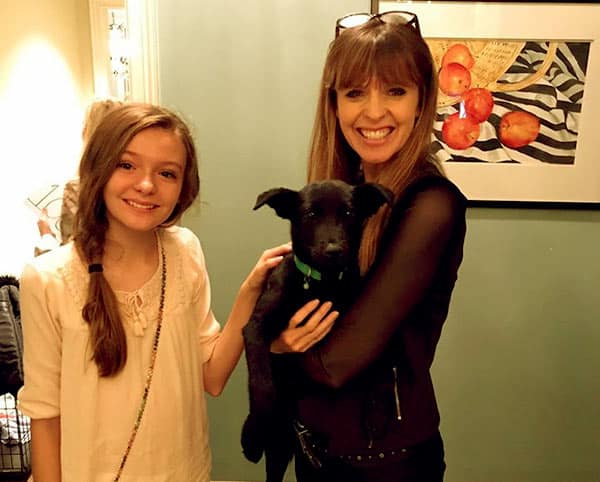 Victoria Stilwell Career and tv shows.
She began her career as an actress. In 1992 she was in Bram Stoker's Dracula that was in London's West End theatre. In 1994 she was also in The Bill that was aired on ITV1. She also shot several commercials and did voiceovers.
Dog walking.
Her sister, a veterinary nurse at the time, advised her to start a dog walking business. She took up the idea and, in no time, realized the need for recognized the need for her clients to have qualified professionals to help with training the process for their dogs. Victoria then specialized in dog training. She and her husband moved the United States in 1999, and together, they co-founded several dog training agencies in the East Coast.
Reality television.
Victoria became famous due to her dog training show "It's me or the dog" that aired on the Animal Planet. The show debuted August 31st, 2005, to May 10th, 2008. The show focused on counseling owners of troubled pets with positive reinforcement techniques to bring about behavioral change in their dogs using modern behavioral science techniques.
Victoria has also worked in other international TV series such as Dogs With Extraordinary Jobs that aired on the Smithsonian Channel, from September 4th, 2000 –September 7th, 2004. The show is also available for streaming on Netflix. She also did another show, Greatest American Dog that airs on CBS, and Dogs Might Fly on Sky TV.
Academy for Dogs.
She is also the president and founder of the Victoria Stilwell Academy for Dog Training & Behavior. Victoria has a website, Positively.com, which she is the Editor-In-Chief. She is also the CEO of the Victoria Stilwell Positively Dog Training (VSPDT), which she created in 2010 as a network for positive reinforcement techniques dog trainers.
https://www.instagram.com/p/B9gkzt3jaVJ/
Animal Behaviour and Training Associates certified Victoria Stilwell. She is also a member of the US Association of Pet Dog Trainers
Victoria has also authored many books on dog training based on positive reinforcement. Her books, Fat Dog Slim: How to Have a Healthy, Happy Pet, and It's Me or the Dog: How to Have the Perfect Pet, are best-sellers. She then released her third book, Train Your Dog Positively, in the US in 2013.
At the 2011 Global Pet Expo, Victoria Stilwell was awarded the prestigious "Excellence in Journalism and Outstanding Contributions to the Pet Industry Award." DogWorld Magazine named her 'Dog Trainer of the Year' at the 55th Annual Purina Pro Plan Show Dogs of the Year Awards Presented By Dogs in Review.
Victoria also does a lot of charity work. She created the Victoria Stilwell Foundation that provides financial support to dog organizations and small animal rescue shelters and offers canine behavior expertise by promoting positive reinforcement and reward-based dog training
Victoria Stilwell's net worth.
Victoria's net worth is estimated to range from $1-$5 M. Her income sources include her tv shows, books, and businesses.
Victoria Stilwell sued?
Rumors surfaced that Victoria Stilwell was facing a lawsuit from a media company, Channel 4. The supposed reason for the lawsuit was that she had faked her qualifications as a qualified dog trainer. Allegedly, Victoria's training methods weren't also working, causing many families to complain of no observable behavioral change in their pets.
However, she quickly debunked these false claims in her blog. She wrote,
"The digital curtain of the internet is a very safe place from which pretty much anyone can lob pretty much any far-flung conspiracy theory. I've heard some crazy stuff: That I was the subject of a lawsuit from a TV network (never been sued and have always had great relationships with all the networks and production companies I have worked with) and that I had not been a professional dog trainer before It's Me or the Dog (I was and ran a very successful business. It's Me or the Dog was also my idea, which I successfully pitched to the production company)"
Victoria Stilwell age.
Victoria Stilwell is 50 years of age as of now, April 16th, 2020. She was born in July 20th, 1969, in Wimbledon, London, England. She is a Cancer Zodiac.
Victoria Instagram and other social media.
The English actress is active Instagram, where she has 41.1k Followers, 312 Following, 1224 Posts. Her Instagram handle is @victoriastilwell. She posts photos of her work with dogs, her daughter, her husband, herself, and her dogs. She posts the same things on Twitter, where she has 76.3K followers. Her Twitter handle is @VictoriaS.
https://www.instagram.com/p/B83DCdsDcBU/
Victoria Stilwell wiki and facts.
| | |
| --- | --- |
| Full name | Victoria Stilwell |
| Age | 50 years old. |
| Date of Birth | July 20th, 1969 |
| Place of Birth | Wimbledon, London, England |
| Profession | Tv personality, dog trainer, actress, and author |
| Net worth | $1- $5M |
| Partner | Van Zeiler |
| Kids | 1 |
| Nationality | British |
| Ethnicity | Caucasian |
| Zodiac Sign | Cancer |
| Parents | Unknown |
Originally posted on April 19, 2020 @ 10:07 am