Grayson Goldsmith is a television personality and an integral part of Black Dog Salvage Crew. She became popular after she was brought on to the DIY network series, Salvage Dawgs. Continue to explore about Grayson Goldsmith's Spouse and Relationship with Tay Whiteside.
On the show, Grayson appears alongside the likes of Mike Whiteside and Robert Kulp. Grayson and the rest of the crew are reputable craftsmen who have made a name for themselves on the popular series.
Know more about the television personality, Grayson Goldsmith, as we go into details about her wiki type biography.
Who is Grayson Goldsmith from "Salvage Dawgs"?
Grayson Goldsmith is a builder, construction expert, world traveler, and reality star on the popular show, Salvage Dawgs. This is a show sponsored by the DIY Network Cable. It follows the Black Dog Salvage Crew, which Grayson is a part of as they go around rescuing old antic doors from buildings on the cusp of demolition.
They usually hunt for beautiful doors that would be otherwise destroyed if left unattended. The show first premiered seven years ago, more specifically on the 8th of November 2012.
This impressive run has seen the crew makeover 120 episodes to date, and well over ten seasons in the process. It has seen Grayson Goldsmith work with the likes of Tay Whiteside, Robert Kulp, Susan Hudson, and Mike Whiteside.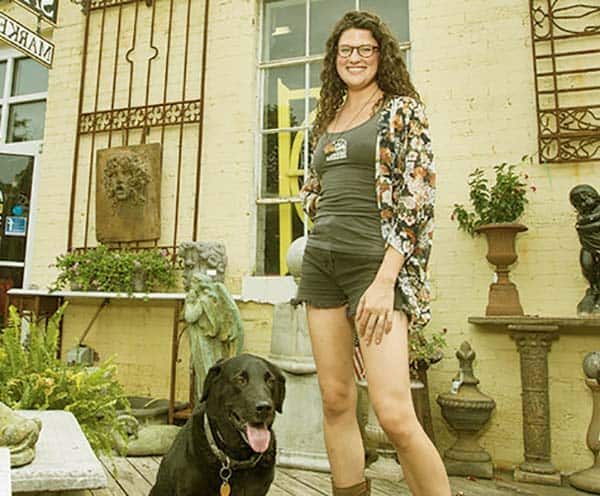 Grayson first appeared on the show in 2013, a year after it premiered, and has about 50 episodes to her name so far. She was the very first female member of the crew and see how skilled she is with hammers and construction work; it was not hard to see why.
The television personality, Grayson Goldsmith from "Salvage Dawgs" is a former student at Appalachian State University, where she studied Sustainable Development and Geology. This enables Grayson to identify rare and valuable items from old, abandoned buildings.
Before she made her appearance on the DIY Network, Grayson was a bit of a globe trotter. She traveled to exotic countries like France, Spain, and Scotland, picking up new cultures and friends in the process.
Grayson Goldsmith has also dipped her toes into the film industry. This came six years ago in 2013 with the comedy film, the Hot Flashes.
The film was directed by Susan Seidelman and starred the likes of Wanda Sykes and Brooke Shields. Grayson was part of the camera and lighting crew for the film.
Grayson Goldsmith Married or single? Her relationship details.
The question as to whether Grayson Goldsmith is in a committed relationship is one that several people have asked.  So does Grayson Goldsmith have a spouse? The short answer is yes, the reality star is, in fact, a married woman.
On a live feed for the Black Dog Salvage Crew, her crewmate and friend, Tay, revealed that they had just come from Grayson's wedding. This was on the 19th of June 2019. Her new husband's name is Garrett Hollingsworth.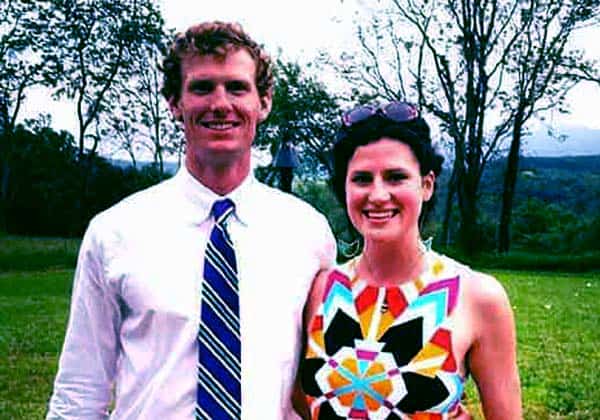 However, details about her spouse presently remain under review. We can only confirm that she is, in fact, in a committed long term relationship. Check around later for more updates.
Grayson Goldsmith Gay/Lesbian??
Questions have always arisen regarding Grayson Goldsmith's sexuality. People have ever wondered whether she was gay or straight, whether her spouse was a man or woman.
These sorts of questions have arisen because there is a common misconception that women who take up male-dominated fields of work are usually gay.
There is the stereotype of gay women in construction, for example, which would explain why a lot of people assume that Grayson is in a relationship with a woman.
Another thing that brings about speculation is the fact that Salvage Dawgs cast Grayson Goldsmith doesn't talk about her spouse or the relationship. As such, every information around was just mere speculation.
This, however, changed on a live stream back in June when fans congratulated Grayson on her recent wedding. On her part, Grayson referenced being a bride and her new husband. This is a man named Garrett Hollingsworth.
As such, we now know that she is not gay. Her spouse is a man, and she is in a long term relationship.
So the rumors of Grayson Goldsmith being gay were completely unfounded. Stay tuned for more updates.
Grayson Goldsmith and Tay Whiteside relationship.
There has been a lot of speculation regarding the nature of the relationship between Grayson Goldsmith and Tay Whiteside.
This was prompted by the fact that the two appear relatively close whenever they are on the show. They have also known each other for quite some time now. As such, several people have speculated that Tay Whiteside and Grayson Goldsmith were dating at some point.
This, however, could not have been any further from the truth, as the two's relationship has never gone past the stage of friendship. Both of them have their spouses, and Tay just recently attended Grayson's wedding.
It is evident that Grayson Goldsmith and Taywhiteside's Relationship is of friends and nothing more than that.
Grayson Goldsmith Wiki, Biography, parents.
| | |
| --- | --- |
| Full name | Grayson Goldsmith |
| Age | 31 years old. |
| Date of Birth | 13th November 1988. |
| Place of Birth | Roanoke, VA, USA. |
| Profession | Reality Television Star, Builder, a Geology expert |
| Net worth | Under review |
| Husband | Garrett Hollingsworth |
| Kids | 0 |
| Nationality | American |
| Ethnicity | Caucasian |
| Zodiac Sign | Scorpio. |
| Parents | Under review. |
Grayson Goldsmith came into this world on November 13th, 1988, in Roanoke, Virginia. This would mean that the builder just turned 31 years old earlier this month.
There is not a lot of information regarding her early childhood, and as such, the names of her parents or any other potential siblings remain a mystery.
Switching gears to Salvage Dawgs Cast Grayson Goldsmith's educational background, we uncovered that she is a former student of Appalachian State, where she graduated with a degree in sustainable development and geology. Long before she ventured in television, Grayson also dabbled with traveling.
Some of her other hobbies include yoga, hiking, and paddleboarding across calm lakes.
Originally posted on November 22, 2019 @ 4:22 pm