Kortney Wilson is a television personality, interior designer, and occasional country musician. She rose to fame on the back of HGTV Canada's Masters of Flip. However, she is not the subject of our review as we aim to focus on her co-host and rumored lover. Kenny Brain is an expert contractor, turned television personality. His first notable brush with celebrity came after working with Global Television Network. Suffice it to say, he left quite an impression, boosting his social media presence in the process. Examine a few facts about Kenny Brain's biography right here.
Who is Kenny Brain from HGTV?
Kenny Brain is a former model and reality tv star. Other than that, he is also an interior house designer and DIY expert. This means that he is quite hands-on when it comes to construction projects around the house. Television would some come calling, especially after he teamed up with the Wilsons on Making it Home with Kortney and Dave. During the first season of the show, fans watched us Kenny helped the Wilsons work on abandoned houses.
After making the necessary renovations, they'd then flip the houses for a reasonable profit. While he started out as a contractor in the series' debut season, Kenny is now set to take on a much bigger role.
He'll not only assume the title of project manager but also host the entire show alongside Korney Wilson. HGTV made the official announcement in May 2021. Long before he stepped onto television, Kenny competed as a professional swimmer. In fact, at one point in time, he was one of the top three Backstroke swimmers in the country.
Kenny's stint on Big Brother
Brain first stepped into the scene in 2014, joining the cast of Big Brother Canada. This is a show that revolved around 15 people shacked up in a lavish space, trying to survive elimination every week.
The fascinating bit about the series is that the contestants get to decide who stays and who goes. Brain made his appearance during the second season of the show. Unfortunately, Kenny holds the distinction of being the first contestant to be ousted from the house. Before he left the series, he established an alliance and friendship with Sarah Miller.
Age and DOB, Parents
Kenny Brain was born on the 26th of August 1988 in Grand Falls, Newfoundland, an Island in Canada. It makes him 33-years old as we speak, and a Canadian national as well. While we were not unable to learn the names of his parents, we did uncover that his dad is still based in Newfoundland. Moreover, Kenny's father is also a fan of motorcycles. In an Instagrm post, Brain revealed that his father once rode his Harley Davidson motorcycle across several parts of Canada.
Kortney Wilson and Kenny Brain Relationship.
After nearly two decades of marriage, Kortney and Dave Wilson decided to call it quits on their marriage. Now, fans are wondering whether Kenny Brain has stepped into Dave's footsteps, in more ways than one. The chemistry he shares with Kortney is truly undeniable, and the two constantly feature on each other's social media profiles. So are the question is, are they dating?
Well, no, Korney and Kenny are just great friends and co-workers. There has never been anything romantic happening between the two of them. Furthermore, Kortney is currently involved with a man named Ryan. In fact, the two took a romantic vacation during the summer break, prompting fans to wonder if wedding bells were on the horizon. Kortney was quick to come out and squash these rumors, insisting that it was too soon for anything like that.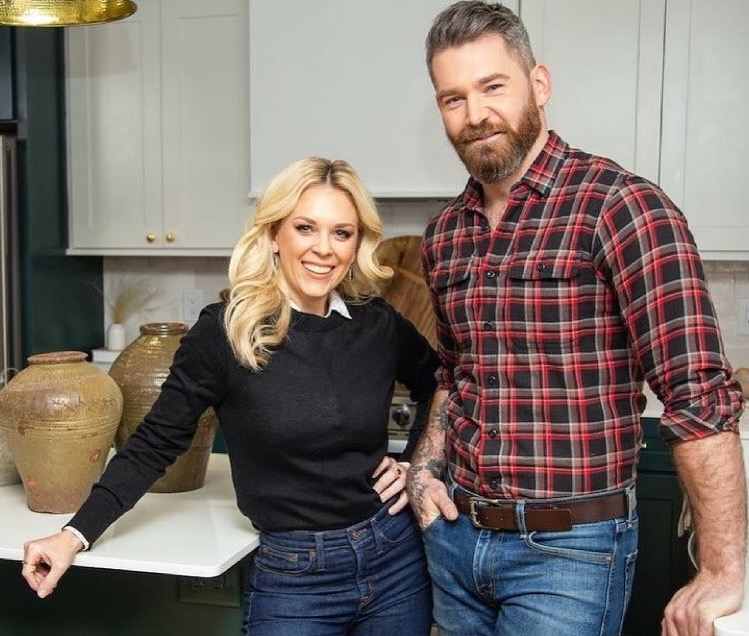 His net worth and Income.
Kenny makes a great living as a reality television personality. Sources say that he earns upwards of $15,000 per episode for his work with HGTV. This figure is surely set to rise now that he is a full-time co-host.
Before he became TV star, Brain made his money as a model, working for publications like Vulcan magazine. As of 2021, Kenny Brain's net worth is reported to be $3 million.
Is Kenny Brain Gay?
Back during his stint on Big Brother Canada, Kenny revealed that he was gay. This was during a conversation he was having with a fellow housemate, Sarah. Interestingly, this was not how he had initially presented himself when the audience was first introduced to him. Brain acted like a heterosexual man, pretending that he was interested in women.
However, this was an apparent strategy to keep him in the house, as he feared that the other contestants would judge him if they knew.
Kenny was not proud of his decision to hide his true self after, claiming that it was the first time he had pretended to be different. He revealed that he had to set the record straight, as the lie was driving him insane.
His social media activity.
Like most celebrities, Kenny likes to use social media platforms such as Instagram to interact with his fans. As we write, he has 68.9K followers on this platform alone. This page reveals that he is an animal lover, and is particularly fond of dogs.
He has a dog named Molly, who he takes everywhere, be it camping or hiking. Kenny first got his dog when he was only 21 years old. In the decade since, they have ventured across North America; crossing rivers, sampling beaches, and a few other delights in the process.
In an interview, Brain talked about how much he feels more at home out in the wild. He is especially fond of off-trail camping sites with trees he can climb. Other than that, we also learned that Kenny is an avid carpenter.
| | |
| --- | --- |
| Full name | Kenny Brain |
| Age | 33 years old. |
| Date of Birth | August 26th 1988 |
| Place of Birth | Grand Falls, Canada |
| Profession | Television Personality, Carpenter and Contractor |
| Net worth | $3 million |
| Partner | None |
| Kids | N/A |
| Nationality | Canadian |
| Ethnicity | Caucasian |
| Zodiac Sign | Virgo |
| Parents | Mr. and Mrs.Brain |
Originally posted on August 22, 2021 @ 8:54 pm