Murder Nova (Real name: Shawn Ellington) is a cast of Discovery Channel's show "Street Outlaws." Ellington is a driver, and he has appeared in many other shows.
He has got a lot of appreciation for his appearance in the Street Outlaws. Apart from being a driver, he is also a well-known TV personality.  The name Murder Nova has been given to him after his fast car.
His life has been through some ups and downs. He used to work in one of the body shops for an automobile, but that's not all, he also used to clean the floor.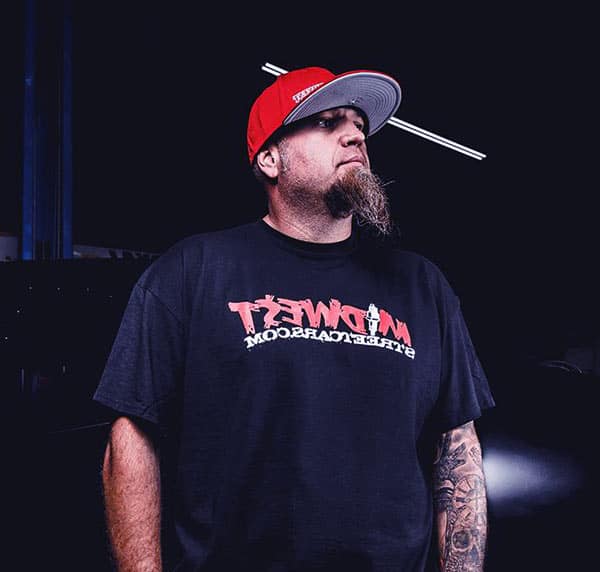 But these hardships have made him stand out, and now he has a perfect life. Let's get to know about his personal life, annual net worth, and his wife.
Street Outlaws Murder Nova Net Worth.
The life of Murder Nova aka Shawn Ellington started in an automotive garage. He had learned all the skills of his father.
In the year 200, he moved to the city of Oklahoma. And then he bought a racing car and baptized it, Murder Nova. On the other hand, that car is a 1969 model Nova. Ellington had modified it and converted it into a fast-moving racing car.
He has been appearing in many of the shows like the Street Outlaws. Street Outlaws is a TV reality show that airs on the Discovery Channel.
The show started in the year 2013. The format of the show is like, many drivers p[participate and they contest with others in their fast moving racing cars. The one who becomes the fastest racer becomes the winner.
Ellington is also a businessperson. According to estimates, the net worth of  Shawn Ellington comes out to be an impressive number of $500,000. But the detailed average annual salary that he draws from various sources is not known.
His Car.
Murder Nova, the car is an impressive vehicle. The specification of the vehicle is amazing and fantastic. The murder Nova is a 1969 Chevy Nova. Ellington has upgraded and made it better than it was originally.
The car was upgraded with the addition of two turbochargers. The car produces a peak power of 3.4k HP. Shaw Ellington had fitted the car with Lunatic Crank, Oliver Connecting rods, 380cc Dart Pro 2 cylinder heads, and Diamond Pistons.  The car has got a remarkable fuel injector system from Billet Atomizer. Alan Johnson built this part.
Murder Nova features a stainless steel header and turbo plumbing. Another cast of the show, Jeff Lutz built this from Titanium and Carbon Fibers. By the use of this, he succeeded in keeping the overall weight of the car very less.
In the year 2017, he revealed his latest Murder, Nova. This gained a lot of interest through the discovery channel. But in the street outlaws for the year 2018, he had to withdraw his name, as his car encountered a problem. He has been closely associated with the discovery channel; however, on no occasion, they have ever disclosed the amount they pay him. Not only had they kept this as a secret for Shawn, but they also follow the same for all others.  
Shawn has been once summoned by the National Hot Rod Association (NHRA). They had notified him that the involvement in the show is against the NHRA guidelines. The board suggested him to restrict his association with these events, or they will cancel his NHRA license.
Street Outlaws Shawn Ellington is Married to a wife, Erin.
Shawn Ellington, as known as Murder Nova, is a married person. He had been in a long relationship with his girlfriend Erin, and in the year 2005 on the 17th of December, the duo tied their nuptial knot.
From this relationship, they have a son named Aiden. Aiden was born in the year 2006 on the 8th of February.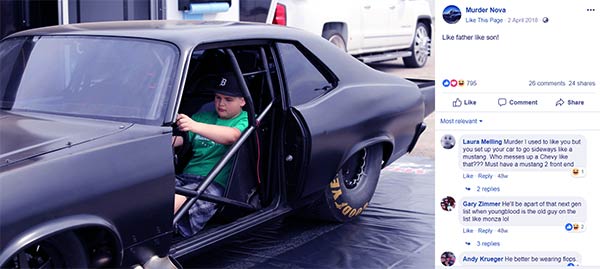 Murder Nova: Parents, Family, Siblings, wiki-bio, and facts
Shawn Ellington, well-known as Shawn Ellington, was born in the year 1977 on the 15th of November. According to facts, he was born in Merced, California.
In the year 1982, he moved to Sayre, Oklahoma. His father is Richard, who owned an automobile workshop. Murder Nova started his journey by initially cleaning the floor. There are very fewer facts known about his schooling and university education.
Shawn is very active on social media platforms. He has almost 80.6k followers on Twitter and more than 200k on his official Instagram account.  
| | |
| --- | --- |
| Age | 42 (November 15, 1977) |
| Net worth | $500,000 |
| Spouse | Erin Ellington |
| Kids | 1 (Aiden) |
| Occupation | Reality TV star and Racer |
| Parents | Richard (Father) |
| Nationality | American |
| Ethnicity | White |
Originally posted on May 25, 2019 @ 7:24 am