If you have been watching the reality show 'The Real Housewives of Beverly Hills' since the show's premiere, then you should know, the show is famous for two things, the ladies' drama and enormous money. Kyle Richards is the one multi-talented housewife who makes a pretty good penny on and off the show. Continue reading to know Kyle Richards Net Worth in 2020.
Kyle Richards is the original cast members of The Real Housewives of Beverly Hills and has been in the show since the beginning. Now the new season of RHOBH is currently underway, and fans cannot wait to see their favorite cast members on Bravo. Read on to know more about this reality star, including her present and past affairs.
Where Is Kyle Richards From? Her Parents, Siblings, And Early Life.
Kyle was born on January 11, 1969, as Kyle Egan Richards to parents Kathleen Mary Richards and Kenneth Edwin Richards, in Hollywood, USA.
She is currently 50 years old. When she was a child, Her parents separated in 1972, again re-married and again split.
Kayle has two half-siblings, Kathy Hilton, born in 1959 from her mother's previous marriage to Lawrence Avanzino, and also has paternal half-siblings from her father's side.
Additionally, she has an old sister named Kim Richards, who is an actress and has two half nieces, Nicky and Paris Hilton.
Kyle Richards Career As An Actress.
Most of the child actors often disappear at one point, but Kyle didn't let it happen. Kyle has been working in the film industry since 1974 as a child actress.
At the age of five, Kyle made her debut in a T.V. series 'Living House on the Prairie' as Alicia Sanderson Edwards in a total of 18 episodes.
Moreover, Kyle and her sister, Kim appeared in the 1977 thriller film 'The Car.' In 1978, she played in a horror movie 'Halloween.' Throughout her career, the actress appeared on several television series and films, including E.R., The Simple Life, Vegas, The watcher in the Woods, and so on.
Further, she will be playing Lindsey Wallace, a friend of Tommy in the movie "Halloween Kills." This movie is set to be released on October 16, 2020. Watch the movie trailer below.
Kyle Richards Has Been On Real Housewives of Beverly Hills Since Season 1.
Before joining the Real Housewives of Beverly Hills, she has appeared on various reality shows. She grabbed the attention of the people across the world after appearing on RHOB since the first season that premiered in 2010 on Bravo Network.
Kyle and Lisa are the original housewives who have been in the show since in the beginning. The show focuses on the personal and professional lives of women living around Beverly Hills, California.
In season 9, she debuted alongside LisaVanderpump, Lisa Rinna, Teddi Mellencamp Arroyave, Dorit Kemsley, Erika Girardi, Kyle Richards, and later joined by new housewife Denise Richards and friend Camille Grammer.
Her sister Kim Richards also joined the show as the main cast until season 6. Also, the reality star competed in another show, 'The Apprentice.'
What Is Kyle Richard Net Worth?
The Bravo network has seen plenty of success with its The Real Housewives franchise. Among them, RHOBH star Kyle Richard receives an impressive salary from the show.
As of 2020, Kyle Richards estimated net worth is $50 million. The RHOBH star earns $270,000 per season.
She is also an author and published her memoir; Life Is Not a Reality Show: Keeping It Real with the Housewife Who Does It All. 
Moreover, Kyle has her clothing line, where she sells various apparel and different accessories. As per sources, Kyle, along with Shahida Clayton, launched a clothing line called 'Kyle and Shahida' on September 8, 2019.
House & Cars Details.
Kyle lives with her husband, Umansky, and kids in California. Back in 2017,  the couple bought a 10,000 square foot mansion for $8.2 million. The beautiful estate features seven-bedroom, a swimming pool, home theatre, sports court, and a billiards room.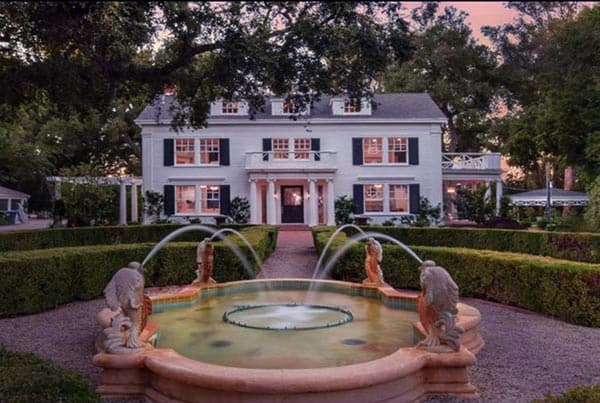 In season 8, she revealed that her new home had been robbed while she was on vacation with her family. At the time, her entire collection of expensive handbags and jewelry was stolen that worth more than $1 million, including $150,000 of watches. After the incident, she renovated the home, and they have moved in.
Moreover, she always flaunts her luxurious lifestyle on her social pages. On her Instagram page, she pictured of her cars; a Maseratti Gran Turismo convertible, Mercedes Benz s63, and Porsche Panamera.
Kyle Richards Married To Husband Mauricio Umansky.
The RHOBH is married to a business tycoon, Mauricio Umansky, for more than two decades. Her husband is the son of Estella Sneider. Mauricio of a Russian and Greek Jewish descent. So, how did the couple and began their love story?
Well, the two have not talked much about their relationship on the media. Kyle and Mauricio tied the nuptials on January 20, 1996, when she was four months pregnant. And interestingly, Mauricio is her second husband.
On November 9, the RHOBH star shared a picture of the two on her Instagram, stating they have been married for 24 years and together for almost 26 years.
Back in 2015, her niece Nicky Hilton exchanged the vows with Rick Hilton. In the wedding ceremony, Kyle was invited, but her husband was not. But why?
According to Eonline, it is reported that Umansky and Hilton's husband', Rick Hilton had some business-related issues. For some time, it caused a severe drift between the two families. In the past, Umansky and Hilton were business partners, but later, Umansky set his own business up without informing his partner, which, as per Rick was pretty unfair.
Kyle Richards Divorce from Her Ex-Husband, Guraish Aldjufrie.
Before getting married to her current husband, Kyle was married to her first husband, Guraish Aldjufrie, who is from Indonesia. She got married to Guraish when she was 18, but their marriage was short-lived.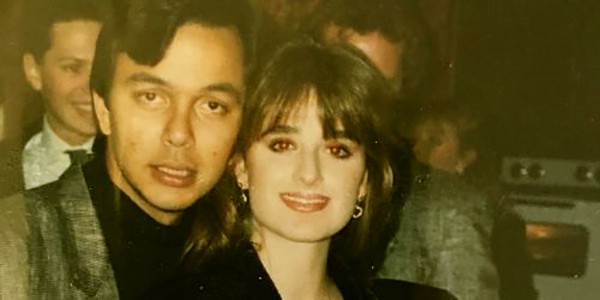 Richards met her ex-husband during a Tina Turner concert when she was approached by his friend, who asked her out for him. After dating briefly, the duo married in a small ceremony, but the end, the two separated after a few years.
Kyle Richards' Children.
Richards is a mother of four daughters; Farrah, Alexia, Sophia, and Portia. She gave birth to her oldest daughter, Farrah, in 1988 from her first marriage.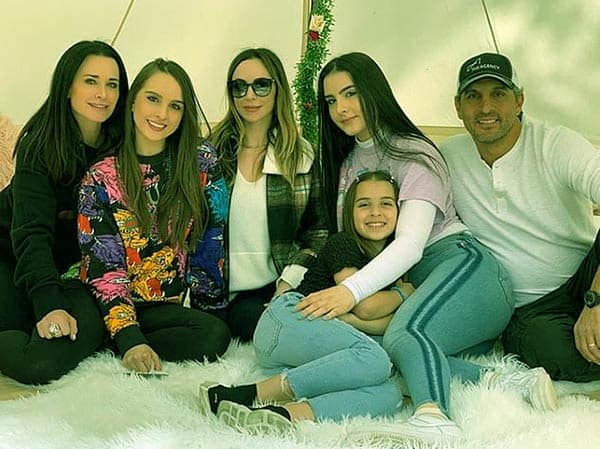 Further, she has three daughters from her second husband, Mauricio. They welcomed their first daughter Alexia on jane 18, 1996. Moreover, the pair has two more daughters Sophia, born in 2000, and Portia, born in 2008.
The family of six has been on luxurious vacations in countries such as Italy, Greece, and Croatia. They even spent time on a yacht visiting exotic places. Let's take a look at an image documented by Kyle vacationing on her Instagram.
FAQ's On Kyle Richards
– How old is Kyle Richards?
Kyle Richards is 50 years old.
– Is Kyle Richards married?
Kyle Richards is married to her second husband, Mauricio Umansky.
-Who is Kyle Richards' Ex-Husband?
Kyle Richards's ex-husband is Guraish Aldjufrie, an Indonesian.
– What is Kyle Richards's net worth?
Kyle Richards' net worth is $50 million in 2020.
| | |
| --- | --- |
| Name | Kyle Egan Richards |
| Born Date | January 11, 1969 |
| Place | Hollywood, California, U.S. |
| Residence | California |
| Age | 50 |
| Profession | Actress, T.V. Personality, Philanthropist |
| Net Worth | $50 Million |
| martial Status | Married |
| Spouse | Mauricio Umansky |
| Ex-husband | Guraish Aldjufrie |
| Children | Four |
Originally posted on March 23, 2020 @ 11:23 am