Kimberly Marie Kessler is better known to the world as the wife of famed WWE Superstar Randy Orton. Other platforms also describe her as an American socialite living her best life in exotic vacation destinations such as Thailand, Bahamas, and Tahiti.
However, other than the life she puts out across, there is very little information known about her. Many have often tried guessing Kim Marie's age while comparing her to her husband, but no luck. That said, here are seven interesting facts about Randy Orton's wife you should know about.
1. She kept her relationship with Randy, a secret from her friends.
By now, you must have heard about Kim Marie Kessler's massive crush on Randy Orton even before she met him. She idolized him with tons of his posters in her bedroom. By the time Randy approached her and introduced himself at a WWE live event in New York, she was already dating him in her mind.
The exciting part was that during the first few months of their relationship, she was inclined to reveal her boyfriend. In an interview with Wrestletalk, the WWE Superstar disclosed that she lied to her friends and family about going out with him.
"It is funny because, for a while there, my wife, Kim, didn't want to stooge off the fact that she was going to visit Randy Orton… I was 'Sandy Norton.' – 'Where are you going, mom?' Aw, I gotta go see Sandy. Sandy Norton.'"
2. Kim Marie Kessler is Randy Orton's second wife.
Orton was previously married to a gym instructor named Samantha Speno. Randy and Kim Marie dated for a while and got married back in 2007. However, their relationship ended in a divorce, which was finalized in 2013. Some of the reasons spelled out were cheating allegations on Randy's part as well as spending too much time away from home as a wrestling entertainer.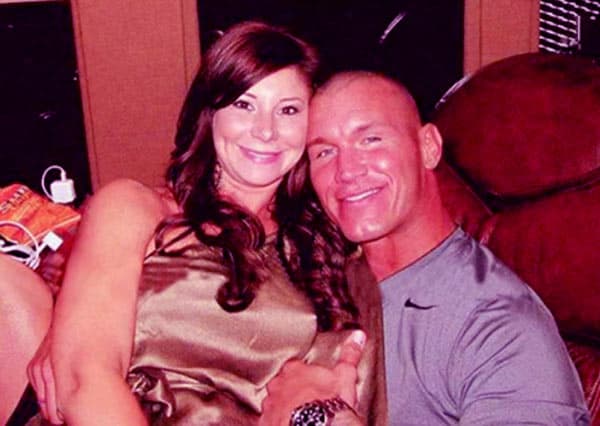 Nonetheless, Kim Marie Kessler was already dating Orton in 2012 right after his split from Samantha Speno. Fast forward three years later while vacationing on Bora Bora, Randy proposed to her while they were dancing. She accepted his proposal and four months later, rode down the aisle to her wedding in Las Vegas, Nevada, on November 14th, 2015.
3. Kim Marie Kessler, like Randy, is also a divorcee and mother of five kids
Other than their mutual love for wrestling and sports entertainment, Kim Marie Kessler and Randy Orton also lounged in their former marriage woes. She was previously married and had three sons with an unknown man. While Randy and his ex, Samantha, remain good friends to date, Kessler's ex-husband remains a mystery.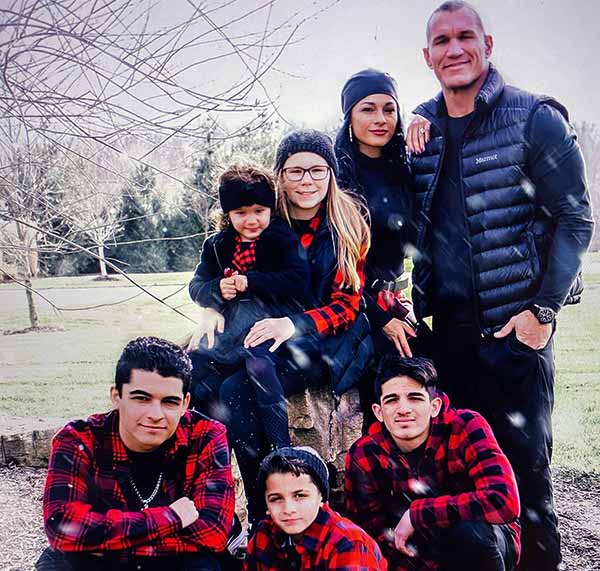 On an entirely different page, Randy and Kim also welcomed their first daughter, Brooklyn Rose Orton, on November 22nd, 2016. She is also close to Randy's daughter, Alanna Marie Orton, from his previous marriage with Samantha Speno. The Ortons are one huge blended family that gets along quite well with each other.
4. Randy Orton and Wife Kim got matching tattoos
Randy Orton's iconic stage performance had him stuck with the persona of 'The Viper' and his body covered in tattoos. One of his most significant bodywork art was right on his arm dedicated to his daughter, Alanne, whereas the rest are skulls.
Kim Marie Kessler wanted something permanent to share in their love and decided to get one too. Randy has a tribal tattoo crested on his chest and ribs while Kim got her ink done on her collarbone. She shared the picture of her tattoo on Twitter, stating that the pain she went through was worth it.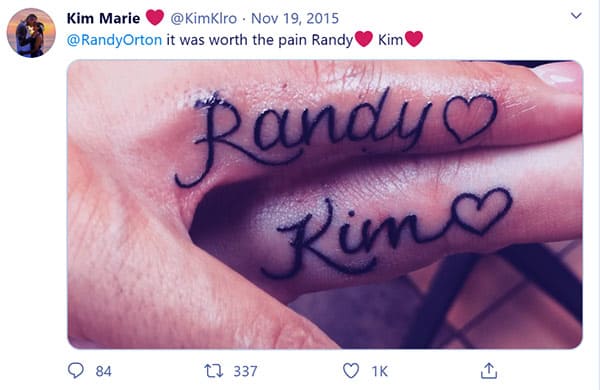 5. Kim Marrie Kessler is a dog lover
Since Orton's previous marriage failed because he spent less time at home, he vowed to allocate more hours with his family. That meant turning down events and promotion gigs while on the World Wrestling tour. Instead, he occasionally takes out the family to exotic destinations.
https://www.instagram.com/p/B11R7TinZim/
One such was their hiking trip in Bora Bora, where they found a dog who wouldn't live their trail. The couple went through the lengthy process of shipping out to their United States for the sake of their kids who loved him. Spike is a rescue dog and currently a member of the Orton family.
6. Kim Marie Kessler once bullied one of Randy's fans on social media.
Kim Marrie Kessler isn't the only one with a crush on the former WWE World champion. There are a lot of WWE Superfans out there who adore Randy Orton and particularly cross with his wife. They went as far as calling her out as a gold digger who was only after Randy's money. Other users on social media even accused her of deleting most of his fan mails tweets.

One determined fan named Kayla Gomez stalked Orton and sent Kim disturbing images on her Twitter account. She even went as far as snapping a picture of herself and Randy while he was at a gym in Texas. The couple who since then named her 'Ms. Piggy' bullied her on social media before finally blocking her.
7. Kim Marie Kessler is active on social media.
Randy Orton's wife is a socialite with 373K followers on Instagram and 78.5K followers on Twitter. Whether it's her husband delivering RKO's, winning titles, or just sharing about her lifestyle, Kim Marie has it all in her social media accounts. She works out with him at the gym and supports him by the stance on relevant matches on SmackDown Live. Moreover, her entire vacations are all captured in her Instagram handles.
https://www.instagram.com/p/B7wkIzVnL4B/
Originally posted on March 22, 2020 @ 6:41 pm