Memphis celebrity JJ Da Boss is one of the fasted individuals in the world of the racing scene who uses heavy machines such as Ole Heavy, Zip tie, and so much more. Before, JJ did not participate in competitions in the race tracks because of financial difficulties but later managed to participate in street racing. His signature style is a famous one. He goes head to head with other racers hitting the asphalt. Read more to know Street Outlaws cast JJ Da Boss' Net Worth, meet his wife Tricia Day, and their children.
The race managed to secure a platform in Discovery series, Street Outlaws, and appeared in an episode Street Mission in December of 2016. His appearance made many viewers love the show, and that's how he came to be a street race star.
JJ Da Boss Marriage with Wife Tricia Day.
Street Outlaws JJ Da Boss is a married man. His wife's name is Tricia Day, whom he has been married to for nearly ten years. He is known to be a family guy and friendly, for that matter. His wife, Tricia, is also a street racer, and she races with her husband for quite some time. She started when she was young. Is that not lovely?
Da Boss has never left his lovely family, and he always loves to flaunt his beautiful family whenever he gets a chance.
The fact that he likes to share moments he shares with his family clearly shows his love for them, and also fans get to know what is happening in their lives. For example, fans felt nice when he shared a picture of two of his daughters, Vada and Aubrey, when they first joined the school.
JJ Da Boss wife, Tricia Day: Age, Biography.
Patricia Day was born in Memphis, US. Many people refer to her as Midget or Tricia in the racing field. Even though there is no information about her Age or date of birth, it is said she is in her mid-thirties.
JJ Da Boss's wife is a car racer by professional. She is popularly known as a street racing queen. Most of the time, she teams up with her husband, JJ Da Boss, with whom they have won many car racing championships. She started car racing when she was still a young girl- the same could be said of her husband.
As of 2020, Tricia is worth between $1 and $1.5 million. As for her social media, she doesn't have any. Tricia likes to keep her personal life private.
11 Children and 5 Grand Kids.
Together with Street Outlaws JJ Da Boss, they are blessed with 11 children, although the ones that we know are Doughboy, Aubrey, Whitney, Anneline, and Vada. There is no information about the others, although they claim to have raised 11 siblings. They also have 5 grandchildren.
Daughters.
JJ DA Boss, with his wife Tricia, has been blessed with two daughters: Aubrey and Vada, Whitney, and Anneline. In August 2018, the street racer posted a picture of his two lovely daughters- Vada and Aubrey, as they were preparing to join the school for the first time. He captioned. "My girls 1st Day @ school. Vada and Aubrey."
His son Josh Day "Doughboy" is also a Racer.
JJ Da Boss's eldest son is called Josh Day, also famously referred to as Doughboy. He is just equally a pro racer. He was born in Joiner, Arkansas, and was raised in around cars, and thus he started driving at a young age. Doughboy is married to Chelsea Day, also known as Chelarilla.
Together they have two beautiful children, Novaleigh and Kamden Day. Moreover, Doughboy is the pride of JJ Da Boss, his father, among the other siblings, including Aubrey and Vada. Doughboy owns a 1962 Impala, which he calls Debo, and since his father's approval, he has been racing for the last three years.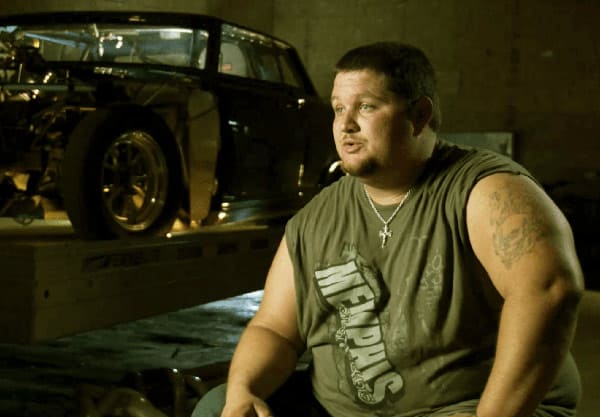 JJ da Boss Real name.
The real name of JJ Da Boss is Jonathan Day
How old is JJ da Boss?
Jonathan Day is 47 years old. He was born on August 11th, 1973.
Net Worth and income sources.
Street Outlaws JJ Da Boss has made most of his fortune from his car racing career. Moreover, he makes good money from the race and his reality TV show. As of 2020, his net worth is estimated to be around $2 million.
Other than racing and TV show, JJ also sells his merchandise. This, in turn, increases his income. His merchandise line is called Memphis Street Racer; customers can purchase hoodies, hats, keychain, t-shirts, license plates, jackets, and so much more. The price range for his products is between $4 and $50.
Car collection, House.
There are not so many details about JJ's fleet of cars, but what we know is that he owns a 66 Chevy II Nova, which was his very first race car. But a car lover like him has many car collections. There is also no information about his house, but for a person worth $2 million. It is a sure bet that he has a big house and lives a fancy lifestyle.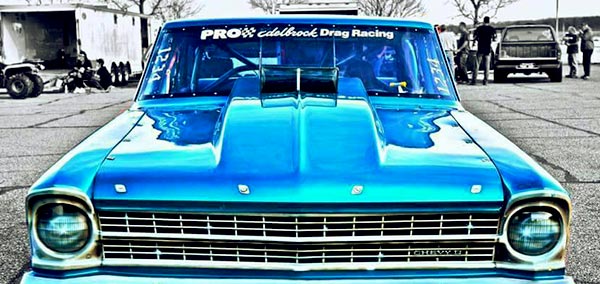 Jail Time.
It is not uncommon to see famous people finding themselves in situations that land them in jail.  The same can be said of JJ Da Boss. He has had a very troublesome teenage life and youth.
From his bio, JJ was a poor kid. JJ was raised by a single mother and did a lot of petty jobs just to survive. For extra income, he would bet. JJ was locked up for eight years and a month in Federal Prison. The reason behind his sentencing is something that he and his family do not like to talk about at all.
However, once JJ was released from jail, he decided to remain quiet and shied away from the media. Nonetheless, he termed the experience as a real existence exercise, which made him realize how important life was and those around him.
Controversies
Even though JJ Da Boss is married to Tricia Day, rumors were going around that he was having an affair with precious Cooper, his colleague, with whom they have grown up together along with Tricia.
https://www.instagram.com/p/Bv4XgUVn-y3/
However, in an interview with Monsters and Critics, JJ Da Boss said that Precious is like a family to him, and he has grown together with his beautiful wife, Tricia Day. Cooper has been a vital member of the team and helps out in different projects, and so, he dismissed those rumors.
Street Outlaws JJ Da Boss Accused of Attempted Murder.
There was an incident that involves a fellow street racer and his wife in 2018- Chad and Genny Larkin. The couple was injured when they entered into an altercation with Tricia and other members of her family.
As reported by Larkin's lawyer, the producers of the Discovery Channel encouraged the racers to talk trash to each other and get into loggerheads, which resulted in a physical assault that left Chad almost dead. His wife, Genny, was also severely injured. Later, JJ was arrested and released for a $30,000 bond.
Social Media and activities
Da Boss is active on social media.  He has an Instagram, Facebook, and Twitter account with over 140K, 86K, and 5K, respectively. Street Outlaws cast his fans from around the world love JJ Da Boss. He likes to posts a lot about his cars, family, and animals, including a horse.
Wiki Bio
| | |
| --- | --- |
| Full Name | Jonathan Day aka JJ Da Boss |
| Age   | 41 |
| Date of Birth       | August 10th, 1977 |
| Place of Birth      | Memphis, Tennessee |
| Profession  | Street racer, reality TV star |
| Net worth  | 2 million dollars |
| Wife | Tricia Day |
| Kids  | 11 |
| Zodiac sign | Leo |
Originally posted on April 2, 2020 @ 6:56 am