Eivin and Eve Kilcher run a popular show along with their other relatives as co-stars. Eve is a fantastic cook and takes care of all the gardening works.
She is capable of growing enough food supplies within the four months. Eivin Kilcher takes up cooking, hunting, and other essential works.
Eivin Kilcher Net Worth.
Eivin Kilcher is a reality television personality of America and has a net worth of around $3 million. He is most popularly known for the famous TV reality show Alaska: The Last Frontier that commenced in the year 2011.
Eivin Kilcher works collaboratively with his relatives as co-stars. Some of his relatives are Eve Kilcher, Shane Kilcher, Charlotte Kilcher, and others.
Eivin Kilcher Age.
Eivin Kilcher was born on 6th March in the year 1984 in homer, Alaska. He is 35 years as of today and is a popular television reality actor and is also an author with many books to his name.
Eve Kilcher Age.
Eve Steller Matkins is the wife of Eivin Kilcher and was born on 8th July 1984. She is presently 35 years old as in today. She is a partner with her husband, Eivin Kilcher in the TV reality show Alaska: The Last Frontier. 
Eve Kilcher Wiki, Bio, and Facts.
Eve Kilcher is an American citizen.
She is daughter to Dena Matkins and Craig Matkins.
Eve's net worth is around $2 million.
Eve's parents are divorced when she was very young.
Her parents got joint custody, so she used to live with her mother, but in summers, she used to have a good time with her father as well.
Eve and Eivin were childhood friends and neighbors and tied the knots in August 2011.
Eve completed her studies from Homer high school and also completed the graduation in the year 2001. She took admission in the Oregon University with the stream of Psychology studies and completes her graduation in the year 2006.
For the TV reality show, Eve gets around $10000 for each episode.
The source of income for Eve and Eivin is not limited to the pay scale of the show but also from their assets and lands.
Eivin Kilcher's life after Injury.
Eivin Kilcher experienced a painful injury due to a broken rib. The tragedy resulted in role reversals for the show Alaska: The Last Frontier.
Eivin says that due to the injury, Eve is taking care of all the odd jobs, and he is trying to handle the kids at home. Eivin Kilcher is seen making muffins for the kids at home. It is a purely adorable scene to watch, but Eivin mentions that he is very much upset about the injury forcing him to switch skillsets.
Eivin used to wait for his wife with happy kids and delicious muffins to come back home after her work. Eve also says that the new role is not that easy for her. She also adds to the statement by doing her husband, Eivin's work; she realizes the amount of hard work and effort he puts in his contribution to the job.
Eivin also replied to it in the statement the next day that handling the kids and everything going on around the house is equally tough and challenging.
Eivin Kilcher Car Collection.
The Eivin Kilcher's car collection includes several muscular automobiles. The one of all that he drives usually is the Subaru XV Crosstrek of 2013 model.
Eivin rates this vehicle at a rating of 8 out of 10. His first car was Subaru GL of model 1986 at the age of 15. It was a wrecked car, and Eivin tried to change the mechanics of it to get it working.
He learned to drive in the Subaru DL Wagon of model 1980. Eivin was around ten years old when he learned to drive.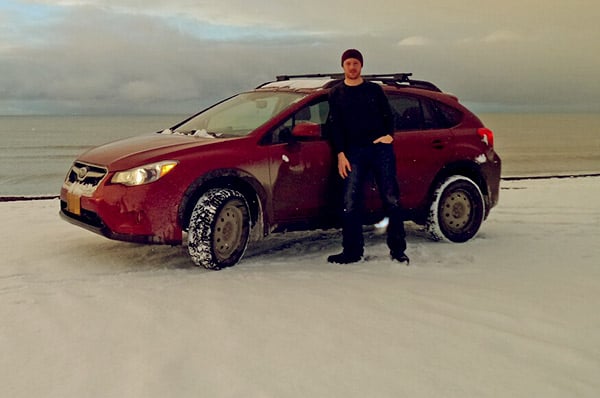 Eivin Kilcher gifts his brother a re-built Brat car. He loves to drive this car and claims that it was once his dream car. This car has a great body without any rusted parts making it a beast Brat car for a regular ride. While the modification works, Eivin replaced the original 1.8-liter engine with a 2.2-liter engine.
He took up the transmission panel from one of his old 1986 station wagon cars and fitted it on to the Brat. He also used Subaru lift parts for giving it an uplift of up to 2 meters to make it finally ready.
Here are the details on other car collections of Eivin. Apart from the Subaru XV crosstrek, Eivin has Chevy 3500 of model 1998. He gives this car a rating of 6 out of 10 due to its low gas efficiency.
Eve and Eivin Kilcher have authored a Book.
Eivin and Eve co-authored a cookbook named "Homestead Kitchen: Stories and Recipes from our hearth to yours." The book consists of around 85 original cooking recipes. Eivin says that Eve is a genius cook, and more than 80% of the recipes are her own creations, and only a few of them are developed from other common recipes.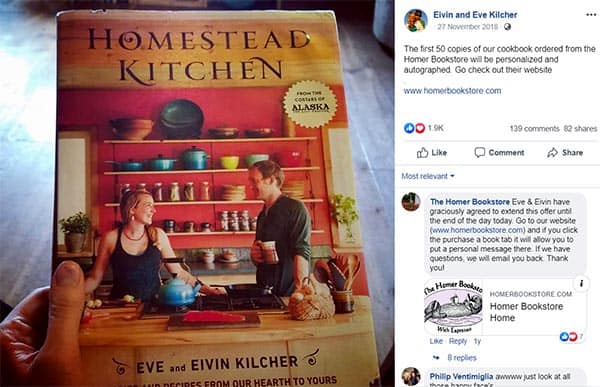 The reason behind publishing this book came from the massive inflow of responses from the viewers. The viewers want to know more about all the cooking stuff that Eve and Eivin do in the show. So, this book is the right way to confront and convey the necessary information to the viewers all across the globe.
Eve and Eivin Kilcher's marriage life.
Eve and Eivin Kilcher are live examples of replicating true love. They were friends since childhood and knew each other as they were living in neighboring farms. The two were in a love affair for a long time and rang the wedding bells in August 2011. Eve takes care of all the gardening needs, and Eivin takes the job of fishing, hunting, recipes, and food.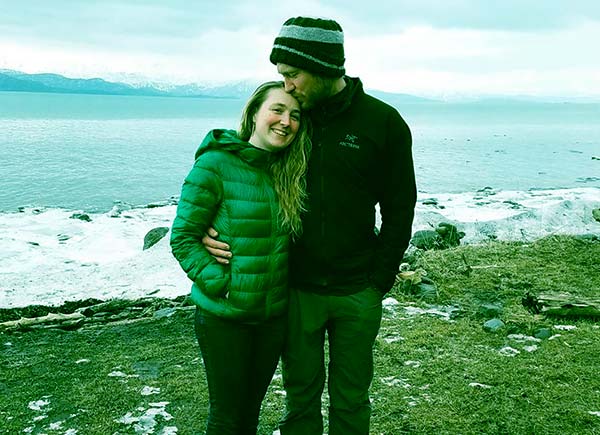 Eivin Kilcher Instagram and social profiles
Eivin Kilcher is active on Twitter, Instagram, as well as Facebook. He is very much active in social media and posts very frequently on the new creations and the fun life of his kids. In one of his posts, he posts a video and picture of his kids sledding on a snowy track on a motor Sledge. He captions the post saying, "They grow up so fast!".
https://www.instagram.com/p/B560jE8AfH2/
In another post, he shares a video of his son destroying the snowman using the aluminum sword made by Eivin for Findlay as a Christmas gift.
The video was really adorable and very playful to watch. Eivin captions it saying, "S no man stands a chance." It is indeed a sarcastic caption. The social profile of Eivin Kilcher replicates the fun nature of the individual.
Eve Kilcher Instagram and social Profiles.
Eve Kilcher, the wife of Eivin Kilcher, also goes up to social media to share the daily fun activities of the family. Her last post on Instagram was a video of New Year celebrations with crackers and sounds of joy.
https://www.instagram.com/p/B6xNPhMJil5/
In another post, she shares a picture with four kids on a snow machine. She captions it, saying,
"I took four kids, two snow machines, two sleds all by myself to the Kilcher Meadows. I was very proud of myself. No one got hurt, and everyone had a ton of fun. Couldn't have done it without Riley and Findley's help driving snow machines!".
The entire social media accounts of Eve Kilcher are full of fun and joy experiences by their kids.
Eve and Eivin Kilcher's Children.
Eve and Eivin are happy parents of two beautiful children, a son and a daughter. The son, Findlay Farenorth Kilcher, was born on 24th November 2013, and the daughter, Sparrow Rose Kilcher was born on 28th September 2015. Findlay was just 22 months old when the baby girl came into the Kilcher family.
Eve says that Findlay is a naughty kid but doesn't mess things up. He loves to go on walks and play around.
Eve also says that she took up priority work to prepare the bedroom for the baby, along with the clothes and other essentials. Eve also says that Findlay does not like to play much with dolls but with tractors and trucks.
Eivin was very happy to welcome a baby girl as he said that he grew up in a family full of boys, and experiencing to have a baby girl is truly amazing.
Originally posted on February 15, 2020 @ 2:51 pm