Jan Pol is a Dutch-born television personality and veterinary doctor who founded a practice called Pol Vet Services. Dr. Pol and his team specialize in treating large farm animals at the Michigan based clinic.
So far, they have reportedly handled over 20,000 different cases over the years that they have been in service. All of the members of Dr. Pol's family: his wife and kids, are involved in the work at the clinic.
In addition to this, Dr. Jan Pol has also had several doctors working for him at the clinic over the years. They are the subject of our review today.
Dr. Pol staff 2020.
Jan Pol is famous not only for staring on reality television, but also founding the Pol Veterinary Services. The clinic was started sometime back in 1981 after Pol moved to Michigan. It would surprise a lot of people to know that the animal clinic was set up in his farm.
Even though the good doctor is in his 70s, and that he has already handled thousands of cases, he shows no signs of slowing down.
Over the years, Jan Pol has worked with number of doctors at the clinic, which he runs. Most of Dr. Pol staff have gone on to star alongside him on his national geographic show, The Incredible Dr. Pol. So now, let meet some of Dr. Jan Pol Staff colleagues and employees at the clinic.
Diane Pol.
One of the leading figures at Pol Veterinary Services is Dr. Pol's wife, Diane. She is a native of Mayville, a town in the state of Michigan. Diane was born on the 6th of February, 1944, which would mean that she is turning 76 years old this year.
Her affiliation with the clinic dates back to 1981, as she played a pivotal role in helping her husband set up the animal health care center in their home.
While she does not have any experience in veterinary medicine, Diane Pol is very active in the day to day workings in the clinic's office. She is more of a managerial figure, leaving the veterinary aspect of the business to her husband and the other doctors.
As is the case with most of Dr. Pol's staff at the clinic, Diane also features the popular reality show associated with it. So far, she has starred in about 154 episodes spanning back to 2011.
Dr. Brenda Grettenberger.
Brenda Grettenberger is one of the most prominent figures at Pol Vet Services. She works as a senior staff veterinary doctor at the clinic.
The 52-year-old vet was born on 23rd of February 1967 in Eaton Rapids, Michigan. Brenda studied veterinary medicine at Michigan State University, graduating sometime in the early 90s. Not long after, Dr. Brenda Grettenberger would get a job working for Dr. Pol at the clinic in 1992.
She did not find life easy at the start. As one of the very first female employees at the farm, she found it very hard to exert her authority. This was because the male workers at the farm were not open to taking orders from a woman at the time.
But Brenda fought through the prejudice to establish herself at the clinic. So far, she has been employed by the clinic for nearly three decades. When Dr. Jan reality's show hit television back in 2011, she was an integral part of the show. She would go on to star in 148 episodes.
Her compassion and love for animals have made Dr. Brenda Grettenberger a fan favorite.
Michele Sharkey.
She is a veterinary staff officer who has been with the clinic for a few years now. It remains unclear exactly when she began working at the clinic, but we can safely speculate that it must have been sometime around 2018.
This was when she was officially featured on Nat Geo's Dr. Pol, appearing as a newly instilled vet officer. Dr. Michele Sharkey has also appeared on nine other additional episodes of the show and remains an important part of the team to date.
Interestingly enough, Dr. Michele first interacted with the clinic back in 2011, when she reached out to them for help with her horses.
Nicole Arcy.
Dr. Nicole Arcy is a fresh addition to the Pol Veterinary Service family. She joined Dr. Pol's staff in 2019 and was introduced to the audience early last year. More specifically, back on the 23rd of February 2019. Dr. Nicole Arcy is a Michigan native. Nicole Arcy also studied veterinary medicine at the University of Missouri, where she graduated in 2018. Only then would she go on to join Pol Services as an intern, learning the ropes before she became a permanent employee. Nicole Arcy's stock at the clinic is on an upward trajectory.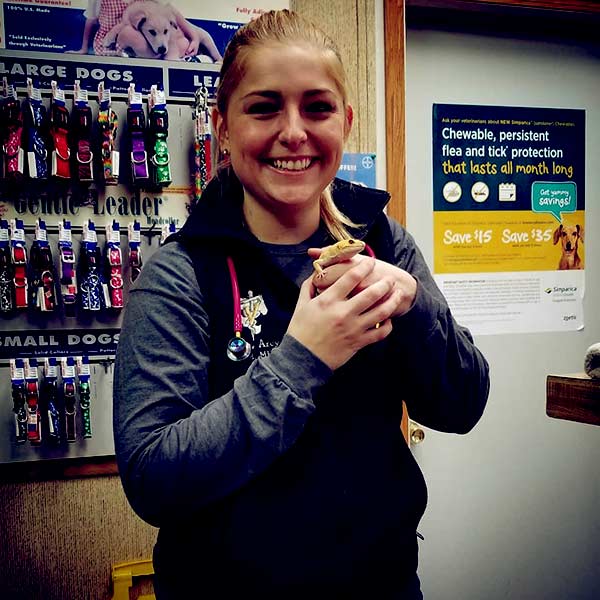 Former Dr. Pol staff members no longer affiliated with the clinic.
Dr. Emily Thomas
Emily Thomas is a former employee at Pol Vet Services. She worked as one of Dr. Pol's staff veterinarians at the institution. Dr. Emily Thomas came into this world back in 1984. The 35-year-old vet is a native of Warner Robins, Georgia.
Emily would go on to the Georgia University of Veterinary Science, where she earned her veterinary medical degree.
Afterward, Dr. Emily would join the staff at Pol Vet Services, and subsequently, reality television. This was back in 2015, and she would stay on with Dr. Pol for about five years. On the 17th of June 2019, news broke online that Emily Thomas would be leaving the clinic in Michigan and taking a new job with Warren County Vet Clinic.
Dr. Elizabeth Grammar.
Elizabeth Grammar is a 46-year-old vet from Lamar County, Georgia. She worked with Dr. Pol at the clinic as Dr. Pol's staff veterinary officer for several years. Since she started appearing on Dr. Pol's reality show in 2016, we can assume that
Dr. Elizabeth was hired at the clinic within the same timeframe. However, she is no longer part of the staff. Tragedy struck Elizabeth and her family after her husband died, and she experienced a mental breakdown. This forced Dr. Grammar to step away from television and the limelight indefinitely.
Dr. Sandra Wiśniewski.
Sandra is another vet who used to work with doctor Pol at the clinic. Dr. Sandra Wiśniewski was brought in back in September 2012, when Dr. Pol decided that the staff could use some additional help. Dr. Sandra Wisniewski was only an intern at the time and had to work her way up to earning a full-time contract for the clinic.
After a year, Sandra became a full-time Staff Veterinarian.  She went on to stay at the clinic for four more years before she would make the very difficult decision to leave and join her fiancé in Belding.
Tony Thomas.
He was brought on the team to work as a vet assistant at the animal clinic. It is important to note that Tony is the husband of Dr. Emily Thomas.
He has been with the clinic for the same duration of time his wife has. Tony's time at the clinic came to an end when his wife got a new job at Warren County Clinic. This came after Tony Thomas had even featured on 18 episodes of the Incredible Dr. Pol
Originally posted on January 15, 2020 @ 3:02 pm