Charlotte Anne Baeumler is the second child of Bryan Baeumler and Sarah Baeumler from the show 'Renovation Island.' She was born in April 2008 and has recently turned into a teenager in 2021. Further, Char loves to enjoy nature and actively participates in environmental conservation programs.
Charlotte Anne has grown to be a gorgeous young lady. She features in her parents' shows 'Renovation Island' and 'Renovation Inc.' that premiers on HGTV. This article presents you with the biography of Bryan Baeumler's daughter Charlotte Baeumler.
Charlotte Anne Baeumler Wiki
Born in Ontario, she lives with her parents in their new property in the Island of San Andros in the Bahamas. The family relocated just ahead of the Corona Virus pandemic. Thus, it was not easy for the family to settle there. However, as the situation has eased, Charlotte loves her days in the Island enjoying nature.
Charlotte's father Bryan is a television host, builder, contractor, and the owner of Baeumler Construction Company, and her mother is an interior designer-planner and a business owner.
Regarding her education, the 13-year-old is home-schooled by her mother Sarah and her siblings except for her elder brother Quintyn. Quintyn attends a boarding school a little far from their home.
Besides nature, Charlotte loves swimming and is a certified diver. Bryan shared the moment when Charlotte got her certification in his Instagram handle. All of the Baeumler's children except the youngest Josephine are now certified.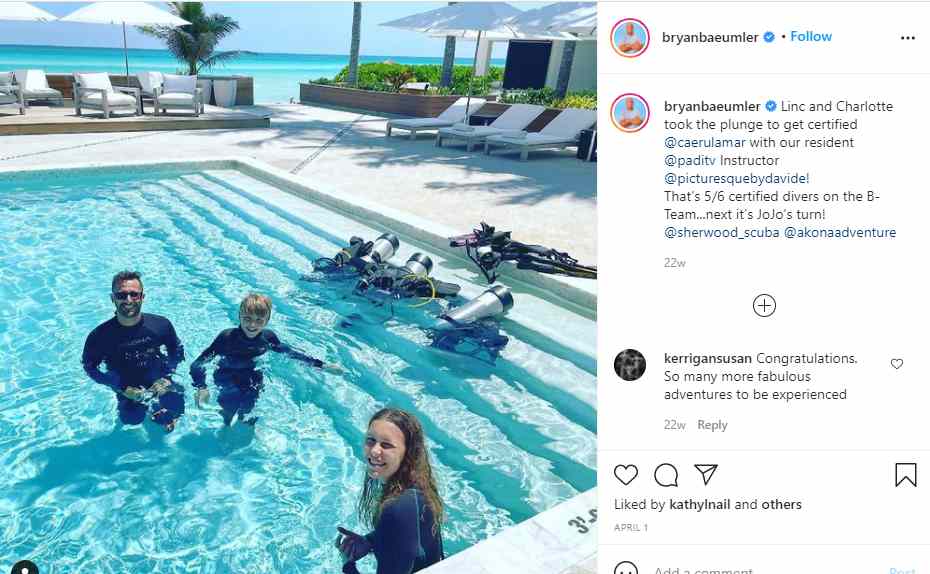 Charlotte Anne Baeumler is not much active on social media handles. However, she has an Instagram account, @charbaeumler, which has 843 followers as of September 2021. Charlotte has only two posts in her Instagram, and both the pictures are of her looking incredibly gorgeous. Thus, with brown hair and deep brown eyes, Charlotte has all the beautiful features of her mother, Sarah.
Originally posted on September 13, 2021 @ 6:42 pm