Ashley Jones is part of the expansive community that lives in South Louisiana along the Swamp. Her adventures have seen Ashley tussle with alligators and wild hogs. Ashley is so good at what she does that it earned her the nickname 'Dead-Eye.'
Hunting is one of the most important things in her alive, and it helped her overcome some major issues in her life. By 2018, Ashley had decided to venture into reality television as well. Find out what happened to Ashley Jones as we examine her life in vivid detail.
Who is Ashley "Dead Eye" Jones? 
Ashley Jones became a household name after joining the cast of the Swamp People. The show followed Ashley and other hunters as they go about in search of perhaps the most dangerous creatures out there. These include the alligators that also call the swamp home. Ashley started featuring on the show back in 2018 after she had demonstrated a cluster of invaluable skills while on a gator boat. Presently, the show has aired over 170 episodes on the History Channel.
Before she made her start on reality television, Ashley "Dead Eye" Jones from Swamp People was just a regular mother with a knack for hunting deer. A glance at her social media will show Ashley posing beside some of the animals she has skilled. Hunting is truly something that runs in her blood, as most of her family were practitioners as well. Ashley's big break came when she won a lottery for a gator tag. She was allowed to invite a friend along, and this was Ronnie Adams.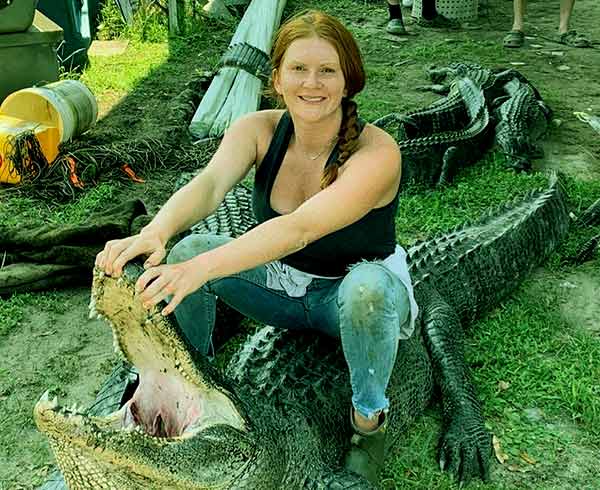 Her friend was so impressed with Ashley's marksmanship that he invited her to work on his boat. This job would eventually lead to her stint on television. It was an opportunity that Ashley Jones could not turn down as she had been a fan of the show for several years before joining it.
What happened to Ashley Jones from Swamp People?
Ashley Jones had to deal with something that most of us cannot wish even on our worst enemies; she lost a child after a miscarriage. Talking to the Clarion-Ledger back in 2014, Ashley said that she had developed depression after this tragic loss. To quote her exactly, she said that she felt dead inside, and sometimes saw no reason to continue living.
https://www.facebook.com/ashleydeadeyejones/photos/a.395184947714137/497166760849288/?type=3&theater
At the time, Ashley did not feel the desire to do anything, and this worried her husband. He finally decided to step in by taking her out on one of her hunting trips. This was the trip where she slowly started to dig herself out of her depression.
Ashley Dead Eye Jones not only discovered a new talent, but also a new sense of purpose. With each trip, Ashley Jones from Swamp People grew in skill and character. She eventually graduated from hunting deer to hunting alligators.
Ashley was so proficient and good at hunting that she required fewer bullets than other hunters. This would earn her the nickname 'Dead-Eye.'
https://www.facebook.com/ashleydeadeyejones/photos/a.395184947714137/493081651257799/?type=3&theater
Ashley Jones Birthdate, Age.
The hunter, Ashley Jones, came into this world on the 25th of November. The exact year of her birth remains unknown. As such, we can only speculate about her age. Judging by her pictures; however, we estimate Ashley Jones to be somewhere in her mid-thirties. We will keep you updated on any new development.
Ashley Jones is married.
'Dead-Eye' Ashley Jones is a married man. Her husband is a man named Chad. He is not only a regular hunter but also a practicing lawyer. Both of them are relatively private individuals, and as such, details about their relationship remain undisclosed.
Ashley "Dead Eye" Jones and her husband Chad have three children together. Their eldest son is just about to turn 13 years old this year.  Ashley's only daughter is three years younger, while their youngest son is only five years old.
Ashley Jones Wiki-bio.
| | |
| --- | --- |
| Full name | Ashley 'Dead-Eye' Jones |
| Age | Mid-30s. |
| Date of Birth | 25th of November |
| Place of Birth | The United States of America. |
| Profession | Deer hunter, Reality television star. |
| Net worth | Under review |
| Partner | Chad Jones |
| Kids | 3 |
| Nationality | American |
| Ethnicity | Caucasian |
| Zodiac Sign | Sagittarius |
| Parents | Cindy (mother) |
Originally posted on January 27, 2020 @ 11:16 pm