Padma Lakshmi is an American media personality who hails from India. She is famous for her work as the host of Top Chef, a reality cooking show on Bravo. She has enjoyed a long stint of 14 years as the host of the reality cooking show. Read this to know chef Padma Lakshmi's Net Worth.
Apart from hosting Top Chef, Padma has also worked as a model for major fashion brands from her early twenties. The top chef host is also an author and writer with several cookbooks and a memoir in her name. Let's explore her personal and career life in the next paragraphs.
Who is Padma Lakshmi?
Padma Parvati Lakshmi Vaidyanathan is a celebrity chef and Prime Time Emmy Winner. She was born on September 1st, 1970. The 49-year old grew up in Madras, Tamil Nadu, a region in India.
The Top Chef host later moved to New York with her mother, who had divorced from Padma's father when she was two years old. Her father's name was Vaidyanathan. He worked in a pharmaceutical company as a top executive. Padma's mother, on the other hand, was a Vijaya Lakshmi, who was a medic.
The top chef host went to Workman High School in California, before enrolling in Clark University, a local college in Massachusetts. She graduated from the university with a Bachelor of Arts degree, excelling in Theater Arts.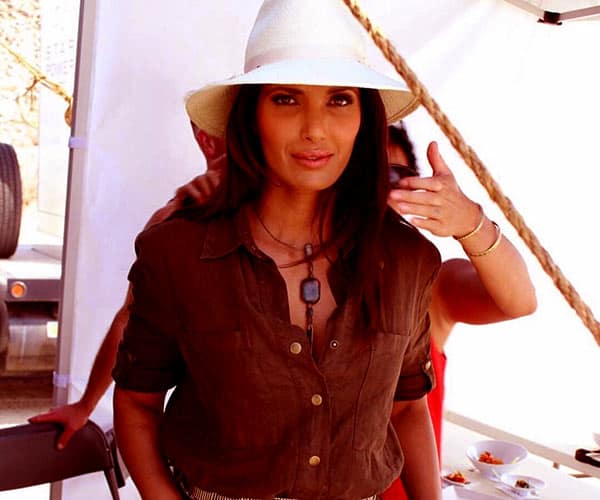 Additionally, she also studied in Madrid, Spain. Little did she know that it would be the birthplace of her modeling career. At the age of 21, the 30 Rock star dabbled with modeling, becoming the first Indian to walk the runways and grace photoshoots.
Big fashion brands scrambled to work with her. They ranged from Giorgio Armani, Gianni Versace, Roberto Cavalli to Ralph Lauren. Also, the naturally beautiful model graced big magazines' covers. A few of them being Vogue India, Harper's Bazaar, and Cosmopolitan.
Between 1997 to the early 2000s, Padma Lakshmi took to television hosting first working for an Italian television show named Domenica In. The television star also hosted shows that aired on Discovery and the food Network. In 2006, she became a household name when she started hosting Top Chef.
The show won a Primetime Emmy in 2010. The top Chef was also nominated for a Primetime Emmy award too. She has been at the helm of hosting the show from season two to its latest season 17 that premiered in March 2020.
The Top Chef host has also written several cookbooks such as Easy Exotic (1999), The Encyclopedia of Spices and Herbs, Love, Loss and What We Ate and Tangy, Tart, Hot, and Sweet.
Moreover, the tv host is also an actress. She has appeared in films like Glitter, Star Trek: Enterprise and 30 Rock. The Easy Exotic author has also appeared in other reality shows, such as RuPaul's Drag Race.
Padma Lakshmi is also a philanthropist. She supports various charities like the Endometriosis Foundation of America, Keep A Child Alive, and American Foundation for AIDS Research. In total, she supports about 12 causes and eight charities, as well as charity events.
Padma Lakshmi Net Worth.
The beautiful Top Chef host has amassed a fortune throughout her career. With many appearances on television and with cookbooks under her belt, Padma Lakshmi is estimated to have a net worth of $30 million. The Top Chef host reportedly earns $50,000 per episode on Top Chef.
The television star also has a dining ware line, culinary products, a décor line, a jewelry line, cooking products like lentils, and frozen rice. Her website padmalakshim.com sells her books and hosts her blog. Seemingly, Padma can do it all.
Lifestyle.
Padma lives a glamorous life as is expected for a famous television host, actress, author, and model. She loves working out, eating healthy, and traveling around the world. The Top Chef host Padma Lakshmi lives in a luxurious apartment with her beautiful daughter, in the bustling financial capital of the world, New York. The Top Chef host has an impressive wardrobe with an assortment of luxurious brands dripping with excellent taste.
Padma Lakshmi Social Media Handles.
The Top Chef host is active on Twitter and Instagram. She can be followed on Twitter @PadmaLakshmi. She has 660.9K Twitter followers. On Instagram, the reality star uses the handle, @padmaLakshmi. Padma has amassed a large Instagram following of 735K followers.
https://www.instagram.com/p/B-xJQdiBSPP/
The single mother of one loves posting pictures of herself, her lovely daughter, her cooking, travels, and beach life. She has posted photos of her and her daughter in Rome near the colosseum.
The Encyclopedia of Spices writer Padma Lakshmi also posted another photo while in Paris with both her and her daughter sporting stylish sunglasses. There are also plenty of workout videos of her enough to motivate any lazy slouch to want to get a fit body such as hers.
https://www.instagram.com/p/B8yx93TBePh/
Padma Lakshmi wiki info and facts.
| | |
| --- | --- |
| Full name | Padma Parvati Lakshmi Vaidyanathan |
| Age | 49 |
| Date of Birth | September 1st, 1970 |
| Place of Birth | Madras, Tamil Nadu in India. |
| Profession | Television host, author, model, actress, and entrepreneur |
| Net worth | $30 million |
| Partner | Single |
| Kids | 1 |
| Nationality | American |
| Ethnicity | Indian |
| Zodiac Sign | Virgo |
| Parents | Vaidyanathan (father), Vijaya Lakshmi (mother) |
Originally posted on May 8, 2020 @ 6:49 am