Mark Towle lives under a straightforward slogan, 'If you can dream it, I can build it.' As a mechanic, builder, designer, and fabricator in Los Angeles' Gotham Garage, he has made the most out of his skills in turning junk into cars. Moreover, he has also been very instrumental while working with motorcycles, boats, and a helicopter at one point in time. You can catch up with his latest antics on Netflix's Car Masters, or read on to find out more about Mark Towle's net worth, wife and Wiki biography.
Who is Mark Towle?
Up to 2018, Mark Towle was a Los Angeles based specialized garage owner. However, his rise to stardom shot up when Netflix executives and producers approached him to feature his work on their reality series, Car Masters: Rust to Riches.
Together with his crew, he purchases beat up vehicles at prices ranging between $500 to $1000 and restore or customize the car to suit their client's needs. Once done, they sell them at a fortune with prices well above $100,000, making their living off it.
Is Mark Towle married to a wife?
From the Netflix show, there are a lot of familiar faces, including Constance Nunes, Shawn Pilot, Michael Caveman Pyle, and Tony Quinones, who form part of the cast. However, when you head on down to Towles Instagram or Gotham Garage's social media page, you'll find him coupled up with a woman. She's always lurking behind the scenes on set and is easily distinguishable by a massive tattoo on her arm.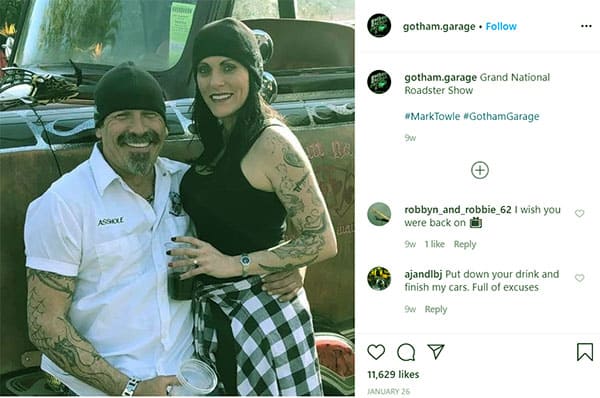 The reality star's lips are zipped about her identity, so we can't tell for sure whether she is married to him or they are dating. One particular picture reveals a wedding ring on her finger, which could probably give it away. However, one thing we are positive about is that they have got the hots for each other, as depicted through a steamy kiss found on his Instagram.
Mark Towle net worth, cars.
Mark Towle's net worth journey wasn't as easy as it may seem. He spent countless years in the entertainment industry working as a prop maker. He would design and build several car models for Hollywood movies and series before saving up for Gotham Garage.
After his career skyrocketed, Towle got the opportunity to feature in films such as Kamen Rider Dragon Knight, America's Most Wanted, and The Today Show. We still have no clue as to what Mark Towle's net worth might be. However, most sources point out it must be in the millions owing to his significant presence on social media as well his viewership count on Netflix.
Another area to vet the reality star's net worth is through his assets. As a comic book fan, the Gotham Garage owner has some pretty exciting designs inspired by the art. You can find custom cars on his websites like Munsters Koach, Splitinimage Tribute Car, The Grand Sport Corvette, Paddy Wagon, Tow Truck, and Speed Racer Mach 5.
https://www.instagram.com/p/BntlHKhhc6A/
He once designed a replica of Adam West's Batmobile, but the lawyers at Warner Bros and subsidiary DC Comics had a field day with it. They slapped him with a lawsuit for copyright infringement, which he lost back in 2013. No one knows how much fees he had to pay for the fines, but it probably dented his bank accounts.
How old is Mark Towle?
As the man who brought it all together, you'd think Mark Towle would be the oldest of the crew. However, he is only 58 years of age and celebrates his year of birth in 1962.
Mark Towle Wikipedia biography.
| | |
| --- | --- |
| Full name | Mark Towle |
| Age | 58 |
| Date of Birth | 1962 |
| Place of Birth | Los Angeles |
| Profession | Mechanic Tv star |
| Net worth | Under review |
| Wife | Unknown |
| Kids | Unknown |
| Height | Unknown |
| Weight | N/A |
| Zodiac Sign | Undisclosed |
Mark Towle was born and raised in Los Angeles in a family five. His father was a no-show leaving his mother to fend off for all her four children. As a result, he didn't grow up with a silver spoon and occasionally went dumpster diving with his best friend. They would find old junk and modify them into whichever toys their imagination could conjure up.
Similarly, Towle's education priors may be unknown, but he seems to have a decent knowledge of the working mechanisms of automobiles. He probably has some level of certification to back up his work.
Social Media Activities.
Marke Towle lets his work speak out for him in his Gotham Garage social media handles. Together with his crew, you'll find them at a car rally or some sort of car fair having a good time. In some of these destinations, he is usually fishing for junk cars he can buy and flip at a profit.
https://www.facebook.com/TheGothamGarage/photos/a.728114660682415/728111024016112/?type=3&theater
Originally posted on April 5, 2020 @ 7:36 am