Faye Hadley knows her way around car engines as much as she does in books. As a graduate from Harvard, she is currently a brand ambassador for Volkswagen and an inspiration to a lot of young girls out there. You can catch her in action on Motor Trend's All Girl's Garage, where she restores and builds different cars from scratch. However, if you're here to find the inside scoop on Faye Hadley's husband, age, and Wikipedia type biography, be sure to read till the end.
Faye Hadley is Married to Husband Brandon Hadley.
Faye Hadley found her significant other very early, even before she was bound for success. She married her best friend and confidante, Brandon Hadley on her birthday back in September 25th, 2016. We didn't snag an invitation, but her close friends and both families were present to play witness to the occasion.
The shared love story between Faye Hadley and her husband goes way back before 2015. Their first photo on Instagram was back in December 25th, 2015, when he gushed up about her. They have toured the country together on his motorcycle and been with each other since then.
https://www.instagram.com/p/_s5aIjEjx8/
Brandon finally popped the question in early 2016 after dating for almost two years, and she said yes. He currently works as a wood artist with tons of his work plastered all over his Instagram. I guess it's safe to conclude that she married a handyman such as herself. There are no kids on the horizon for the couple just yet; however, we can't rule out the possibilities.
Who is Faye Hadley?
On paper, Faye Hadley is a certified psychotherapist, a talented mechanic, mentor, and entrepreneur. Above all else, she is also a wife and daughter to her parents – more on that later. She is currently the pioneer of Woman and Machine, a learning institution for young girls that handle classes on advanced mechanics.
Faye Hadley in All Girl's Garage.
Running a garage requires a team and Faye Hadley has one with her co-hosts, Sarah "Bogi" Lateiner, and Christy Lee. Jessi Combs was also part of the group, but she passed away last year while trying to break her own land speed record.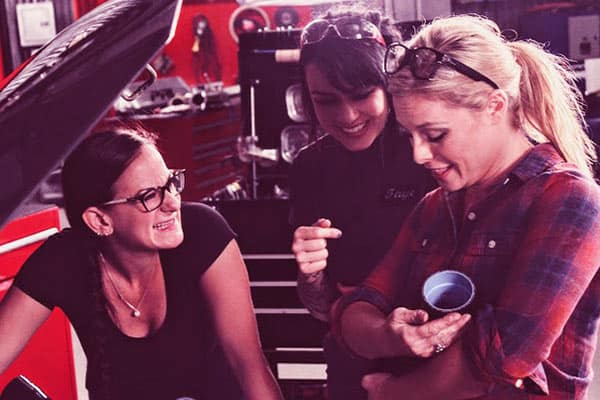 Nonetheless, the show must go on. The series, which is filmed in central Florida, is currently ongoing and in its 9th season. It began in 2012 and with Hadley being the latest addition to the series. She is just as talented and certified only as the rest of the girls with her specialty in Toyota and Lexus motors.
Faye Hadley age.
Faye Hadley is currently 33 years of age. She celebrates her birthday and marks her wedding anniversary on the same date each year on September 25th. The car girl is also a Libra and marks her birth year in 1986.
Faye Hadley was accepted in Harvard.
The All Girls Garage star wasn't always about changing oils and fixing car engines. At one point in time, she was a library kind of girl. Upon completion of her high school, Faye Hadley was accepted into Harvard under a sponsorship deal to study psychology. She was a bright student who dished out high grades with her dad, a Ph.D. holder from MIT, serving both as a mentor and father figure.
However, during her first term on campus, she came across a Volkswagen GTI licensed from a dealership in Alaska. The owner of the car was on tour around the U.S., which sparked up an interest in her.
As a result, she enrolled her 12 units online and bought a similar Volkswagen to embark on a road trip in 2007. It was probably one heck of a journey because the car's engine blew up as soon as she got back. By age 22, she had graduated with a degree in Psychology in the year 2010.
Faye Hadley career, Psychologist turned Mechanic.
During her time on campus, the All Girls Garage star got an unpaid internship at a Volkswagen garage. It was here that she learned the ropes on how to fix her blown car engine and brought it back to life.
Upon graduation, while working as a licensed therapist up in Northeast, her mother noticed she wasn't pleased with her current job. As a result, she advised her to pursue her dreams.
Hadley immediately handed her two-week advance notice to quit and later moved to Portland. Again, she got another unpaid internship at a garage while sharpening her skills at a local community college. The 33-year-old was down in finances, but at least she was happy with what she was doing.
Finally, her breakthrough came when she secured a job at a Toyota dealership. She saved up and launched Pistons & Pixiedust, an auto repair shop found in San Antonio, Texas. Her loyal customers followed her right up to the end until she made her debut on television.
Wikipedia Biography.
| | |
| --- | --- |
| Name | Faye Hadley |
| Profession | Certified Toyota and Lexus car expert, Tv personality |
| Husband | Brandon Hadley |
| Age | 33 |
| Birthdate | September 25th, 1986. |
Faye Hadley was born somewhere in the United States to her supportive family. She knew right from her time as a kid that she wanted to become a mechanic. However, when the opportunity to join Harvard presented itself, she knew it would be foolish to turn it down.
Information on her family, education, and early life are hard to come by. However, we found out that somewhere along the line, her biological parents separated while her mom gained custody over her. Faye was raised by her new step-dad, whom she's very fond of, as portrayed an Instagram post in 2017.
Social Media Activities.
Bound to empower women out there, Faye Hadley has a YouTube channel with 55.7K subscribers. Over on Instagram, she sports over 38.6K followers and uses both platforms to educate her fans on under the hood car stuff. You can also find her on automotive workshops spread out across the country, where she hosts hands-on daylong education classes. You can find out more about her upcoming projects here.
Originally posted on April 11, 2020 @ 6:36 am