David Bromstad is a 46-year-old television personality who burst on the scene with HGTV's Design Star. The former Disney illustrator has since gone on to star on several more shows. David is also recognized for the numerous tattoos spread across his body. He was for a time romantically involved with Jeffrey Glasko. This however ended explosively, and the two are no longer partners. So does David Bromstad have another boyfriend? Is he married at the moment? Find out as we take a look at David's romantic life in full detail.
Is David Bromstad Married?
David Bromstad is not a married man as he has not walked down the aisle with anyone yet. He has however been involved in a few long term relationships. David's longest partner stayed with him for nearly a decade. At the moment, he is dating a different boyfriend.
Coming out as gay.
David Bromstad's coming-out party didn't go entirely as he had planned. A lot of rumors had been making rounds in regards to his sexuality. David did not come out to clarify things until 2013. Unfortunately, he did not pick the right moment. His announcement coincided with a Salvation Army Event. David came under fire for pulling the attention away from the event after he announced that he had been dating a boyfriend for the last eight years.
While his bravery was commended, David faced criticism for his poor choice of timing. In an interview with the Miami Herald, he said that while he was certain the announcement was going to cause controversy, he did not regret it. David Bromstad and his team, however, felt that it was best for him to come out. At the time, the Salvation Army was trying to improve its relationship with the LGBT Community.
Relationship with Jeffrey Glasko.
David Bromstad met his then partner, Jeffrey Glasko, back on Valentine's Day. This was at a pub at Firestone in Orlando back in 2004, during an all singles mixer/partner where people showed up looking for potential boyfriends.
Remarkably, David had been infatuated with his future partner for years but did not approach him. The two, however, did not meet until that fateful party on the 14th of February. David and his would-be boyfriend hit it off almost instantly.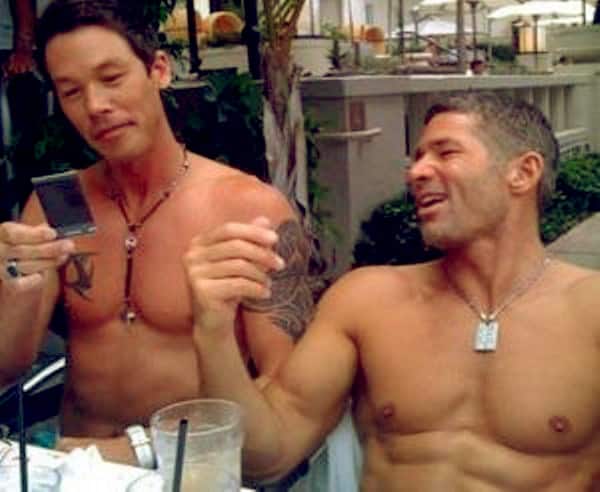 Jeffrey was his partner for well over a decade before alleged drinking problems began to put a strain on the relationship.
David Bromstad and Partner Jeffrey Glasko Split.
After nearly 10 years of dating, David and his boyfriend decided to officially call it quits. This came as a surprise to many as people close to them assumed they were well on their way to getting married.
However, behind the scenes, there was a lot going on that the public was not privy to. Jeffrey would even take his partner to a civil court. He alleged that David had broken the oral nuptial-like cohabitation contract and partition of the house the two owned.
In his legal argument, Jeffrey Glasko claimed that his ex-boyfriend had left him not only emotionally but financially damaged. He claimed that his partner David had thrown himself into a world of drinking, sex, and drugs. According to Jeffrey's attorneys, David used their life savings to fund this dangerous lifestyle.
Jeffrey went on to allege that David Bromstad would even hire prostitutes with their savings. This was what he claimed completely severed their trust and brought about an end to their relationship.
However, a Miami based judge completely threw the allegations and suited out of the window. In his report, he stated that there was not enough evidence to support the outlandish accusations.
Who is Jeffrey Glasko?
Jeffrey Glasko was thrust into the limelight as a result of his relationship with television host David Bromstad. So who is he? Jeffrey's Linked Page listed him as the project manager and COO of David Bromstad LLC. After his split with David, however, we are quite sure that this is not a position he still holds. Before he started working with his ex-boyfriend, Jeffrey was a former policeman.
According to sources, he worked at the Miami Police Department for nearly five years. This saw him go from a simple police officer to a uniformed patrolman, then detective, and lastly, a SWAT Team Leader. Working in law enforcement was something Jeffrey also sought to do for a very long time.
After meeting David, life presented him with a different path. Jeffrey regularly appeared on David's social media page, particularly Instagram, where the latter took numerous pictures. Just like his ex-partner, Jeffrey is also in great shape.
Jeffrey Glasko was born in 1966 in Miami, Florida. At the point of writing, Jeffrey Glasko is 53 years old. Being a private person, unlike his ex-boyfriend David, there is not a lot of details regarding his family. In as far as Jeffrey's educational background is concerned; we learned that he was an alumnus of Roger Williams University. He was at the institution for three years, joining back in 1988, and graduating in 1990 with a degree in Correction and Criminal Justice.
Afterward, he took up Police Science at the Old Dominion College. Before he graduated from the police academy, Jeffrey Glasko had to attain licenses in Community Policing, POP, and CPTED. Looking into his ethnicity, we learned that Jeffrey is a Caucasian man.
Jeffrey Glasko's Social media activities.
A glance at Jeffrey Glasko online will tell you that the man doesn't put a lot of effort into his social media. We were only able to find him on Twitter. Jeffrey joined in December 2015, coincidentally around the same time he was suing his ex-boyfriend.
It would suggest that he started the page to air his frustration at not winning the civil suit he leveled against David. A post on the 18th of December 2015 advises other people on how to spot a narcissist on the first date. This might have been a thinly veiled jab at his ex-partner David.
Originally posted on February 28, 2020 @ 3:25 pm