Bree Harrison is a former heavy equipment operator at Little Flake Mine, a job she held for about three years now. Before this, Bree experienced quite a bit of financial problems that left her in debt. Through sheer resilience and the help of her friends however, she managed to dig herself out of that hole.
Presently, Bree from "Gold Rush" is enjoying her time on reality television hunting for gold alongside her other teammates. Learn more about Bree Harrison's life as we take a look at her biography in detail. Unravel all the interesting facts about her.
Who is Bree Harrison?
Bree Harrison is a treasure hunter who applies her trade as part of Parker's team on the Discovery Channel's Gold Rush. The show follows a collection of mining teams as they set about the Yukon Territory in search of gold.
The series first aired back on the 3rd of December and has since gone on to release over 200 episodes. Bree Harrison joined the cast of Gold Rush in its ninth season. More specifically, she attached herself on to an existing gold miner's team.
Parker found himself short-staffed as a few of his crew members left his team. Bree Harrison was brought on to help Brennan Ruautt operate the Big Red. This is one of the heavy equipment required in order to mine gold.
Bree and Brennan have developed a close relationship over the past few seasons. In a recent interview, Bree admitted that though they give each other a few amounts of grief, they have become close friends.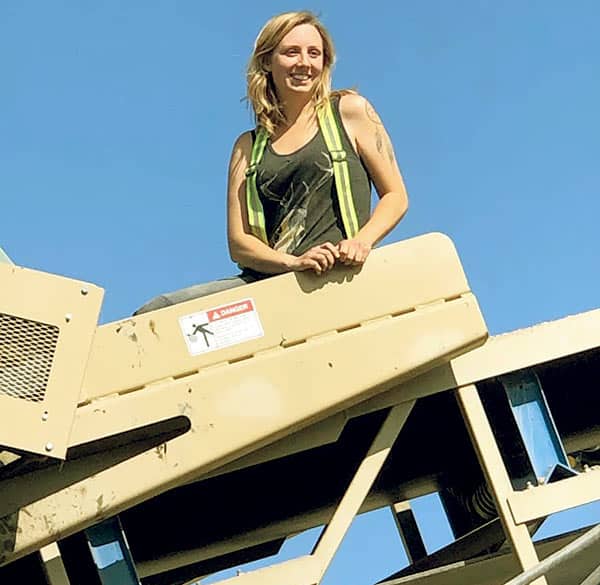 Bree Harrison's social media search also revealed that she is environmentally conscious, especially in her disregard for plastic. As many experts will tell you, its excessive use its detrimental to the environment. The young gold miner uses her social media account to raise awareness on the matter.
https://www.facebook.com/giveashiftnature/photos/a.300969366760799/1238664186324641/?type=3&theater
Bree Harrison's Age.
Bree Harrison was born on the 1st of January 1994 in Waterloo, Ontario. This means that she just turned 26 years old early this month. Despite her young age, her gold mining career is already rapidly progressing.
Bree Harrison's Family.
The gold miner is a relatively private person. Not a lot of information is available online regarding her family, more particularly her parents, whose names we could not uncover. We did, however, manage to learn that she grew up in Canada alongside a younger brother. This is Mack Harrison. Mack is currently studying for a degree at the University of Guelph.
What happened to Bree Harrison from "Gold Rush"?
Before she made her way on to reality television, Bree found herself at the lowest point of her life. This came after she incurred a $20k debt amounting from hospital bills. The miner suffered a spinal injury while working.
Unfortunately, her medical bills were not covered by her insurance so she had to come up with another way to raise the money. This left Bree in a horrible financial state, dragging her down into depression as well. She alienated herself from her friends, losing a lot of them in the process. Bree Harrison from "Gold Rush" worked hard to get back on her feet. Presently, she is debt-free.
Bree Harrison Wiki-bio.
| | |
| --- | --- |
| Full name | Bree Harrison |
| Age | 26 years old. |
| Date of Birth | 1st of January 1994. |
| Place of Birth | Waterloo, Ontario, Canada. |
| Profession | Gold miner, Reality television personality |
| Net worth | Under review |
| Partner | Under review |
| Kids | 0 |
| Nationality | American |
| Ethnicity | Caucasian |
| Zodiac Sign | Capricorn |
| Parents | Unknown. |
Bree Harrison has a modern-day from rags to riches story. She has risen from the ashes of crippling financial debt to become a beloved and popular television personality. Bree's personality shines through with each episode of Gold Rush.
A look at her social media profile will also tell you that she is a lover of dogs. She has two at the moment. In a previous interview, she also stated that she was in an abusive relationship for several years.
https://www.instagram.com/p/B6Wq9djABE9/
This marred with the depression she experienced after her accident gave her the darkest days of her life
Originally posted on February 4, 2020 @ 2:25 pm