Scott Campbell Jr is a reality tv personality, author, and entrepreneur who is famous for his work in the reality series Deadliest Catch. He was born on 6 May 1974. His father, Scott Sr, was the first-generation fisherman. Continue reading to meet his wife Lisa Campbell.
Scott Campbell Jr is 45 years as of now, April 15, 2020. He is a second-generation fisherman and was the captain of the Seabrooke, which he co-owns with his dad for the first four seasons of the show, Deadliest Catch.
A debilitating back injury put him out of the fishing business and had him retire early from fishing. Scott had multiple back surgeries to try and rectify his problem, but he was still unable to continue captaining the Seabrooke.
He left the life at sea and went on to start a Cooler manufacturing business, the Cordova Company, based out of Nampa, Idaho. The company produces roto-molded iceboxes that are foam-injected.
The Mastercraft boat company also decided they wanted in on his idea because it was born when Scott was on a Mastercraft boat. Today, the Cordova cooler box is an option one can have when purchasing a new Mastercraft boat.
Scott Jr also wrote a book entitled, Giving The Finger: Risking It All To Fish The World's Deadliest Sea, which chronicles his fishing experiences at the Bering Sea with his dad.
Scott Campbell Jr Net Worth.
Deadliest Catch Star Scott Campbell Jr is estimated to have a net worth of about $600,000. His income comes from his work on the show, Deadliest Catch, his book sales, and his cooler box manufacturing business, Cordova Company.
What happened to Scott Campbell Jr? Why did he leave the show, Deadliest Catch?
Scott Campbell Jr. had a chronic back injury that wouldn't go away during his first four seasons on the Deadliest Catch, despite having multiple surgeries. Life on the boat got so miserable and debilitating that Scott chose to retire early from his fishing career.
He then sought out to start a cooler manufacturing business that picked up pretty well. Scott interviewed a local news outlet KIVITV and explained where the idea for Cordova coolers came from.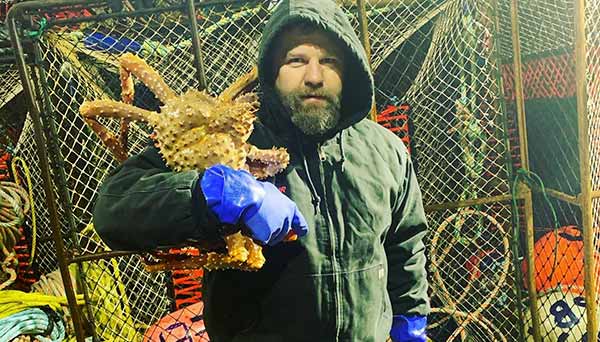 He said that one day during a fishing expedition, his pals bet him that he couldn't make a better cooler than the one they had in their Mastercraft boat, that didn't do a good enough job of keeping things fresh. Scott decided that he would prove them wrong and make his cooler box that was much better, and that's how his company began.
He, however, announced on a post in September 2018 that he would be returning to the show once again in its 16th season. However, it is not known if Campbell Jr. will return to captain his boat Seabrooke, which is now on sale at Dock Street Boaters, or their new ship the Lady Alaska.
 Scott Campbell Jr Back Surgery.
Scott Campbell Jr has had multiple surgeries done on his back that suffered from chronic pain. The illness made it extremely difficult to continue work on the boat that he piloted, forcing him to leave the show Deadliest Catch. However, he seems to have recovered as he announced his return in the show once more in season 16 in 2020.
https://www.instagram.com/p/BurN8VEnihF/
What is Scott Campbell Jr doing now? Where is he?
After leaving the show, Scott Campbell Jr became an entrepreneur. He started his cooler box manufacturing and partnered with a boat-making company called Mastercraft that sells the coolers in its boats as an extra option.
He is also a published author of his book, Giving The Finger: Risking It All To Fish The World's Deadliest Sea, about his fishing expeditions with his father in the Bering Sea.
 Scott Campbell Jr is married To Wife Lisa Campbell.
Scott Campbell Jr is married to his wife Lisa Campbell, and together they have two daughters, Trinidy and Stormee. They also have a granddaughter named Rainee. They are happily married, and Lisa posts photos of her family on her Twitter, @Lisaskipperwife.
Scott Campbell Jr Social Media.
Scott Campbell Jr is an active social media user, especially on Twitter. His Twitter handle is @CaptScottJr with 70.1 K followers. He likes posting pictures of his fishing expeditions aboard his boat Seabrooke and photos of his family and friends.
He also used Instagram, though, not frequently. His Instagram handle is @scottcampbellJr. He has 2954 followers. His Instagram posts are photos of his dog, his boat, the Seabrooke, his granddaughter, and daughters.
https://www.instagram.com/p/XitdjfP67W/
Scott Campbell Jr net worth, age, and wiki-bio.
| | |
| --- | --- |
| Full name | Scott Campbell Jr |
| Age | 45 years old. |
| Date of Birth | 1974 |
| Place of Birth | Walla Walla, Washington United States |
| Profession | Reality tv personality, ship captain, fisherman, author and entrepreneur |
| Net worth | $ 600,000 |
| Partner | Lisa Campbell |
| Kids | 2 |
| Nationality | American |
| Ethnicity | Caucasian |
| Zodiac Sign | Taurus |
| Parents | Scott sr (father) |
Originally posted on April 17, 2020 @ 9:38 am