Frank Fritz is an American antique collector, television personality, actor, and author. Most fans recognize from his time on the show American Pickers and its subsequent spinoffs. Frank wonders the country in search of hidden old treasures.
This saw him eventually author a book, "How to Pick Vintage Motorcycles.' So what happened to Frank Fritz? Is he still a part of the American Pickers? Learn more about American Pickers Frank Fritz as we take an extensive look at his biography.
Who is Frank Fritz?
Frank Fritz is most commonly known for his work on reality television. Before all the fame and glory, however, he was a fire inspection specialist for well over two decades. This was in areas such as Iowa and the Cedar Falls.
This was never his true calling, though. Ever since he was young, Frank Fritz from "American Pickers" allows loved collecting antiques and other things most people would label as junk. What started with cans and rocks later evolved to antiques in abandoned garages.
One thing Frank liked collecting more than anything is old motorcycles. Such was his love for them that at one point, he parted with over $4,000 when he was a teenager, to acquire one. By the time 2002 rolled around, Frank decided to pursue his passion seriously finally.
He stopped working as a fire inspector and set up on business. This was a shop in Illinois called Frank's Finds. The shop provided an avenue for him to sell all the valuable antiques which he went across the country in search of.
Sometimes these were vintage motorcycles; other times, they were signs and old relics. Frank would eventually partner up with another antiques' collector, Mike Wolfe, and soon the History Network would come calling. Most people would be interested to learn that the pair were long-time childhood friends.
Together, the two would document their travels across the country in search of the ultimate treasure. The very first episode of their show premiered back on January 18th, 2010, in the state of Iowa to an impressive 3.7 million viewership.
So far, it has been on screen for a decade, garnering nineteen seasons in the process. This has translated to just about three hundred episodes during its impressive run time.
Three years after the premiere of his show, Frank Fritz would go on to publish a book based on his favorite pass time, collecting old motorcycles. It was released on the 26th of November, 2013.
The book gave its readers all the necessary tips they would require to assemble vintage motorcycles. It also talked about the very motorcycle Frank owned, which was a Harley Davidson, circa 1964.
American Pickers Frank Fritz's Net worth.
The reality star has collected antiques for most of his life. However, a substantial part of Frank's net worth has come from his stint on television. Frank earns $500,000 a season just from the show alone. As such, Frank Fritz's net worth reportedly stands at $4 million. His other source of income is from his Store Frank Fritz Finds where he sells antiques for huge profit margins.
Frank Fritz's Wife.
The antique collector, Frank Fritz, was, in fact, a married man. He was married to a mystery woman, his long term partner before the two went their separate way.
Before the split, however, Frank Fritz and his former wife had a daughter together. Being a television personality, American Pickers Frank was romantically linked to several women, and surprisingly, even his best friend, Mike Wolfe.
These were, however, false rumors as the two were business partners and long term friends.
American Pickers' Frank Fritz is Dating a Girlfriend named Diane.
At the moment, Frank is, however, dating a woman named Diane. She is also a recent divorce, with a daughter of her own. So American Pickers Frank has a step-daughter named Paige.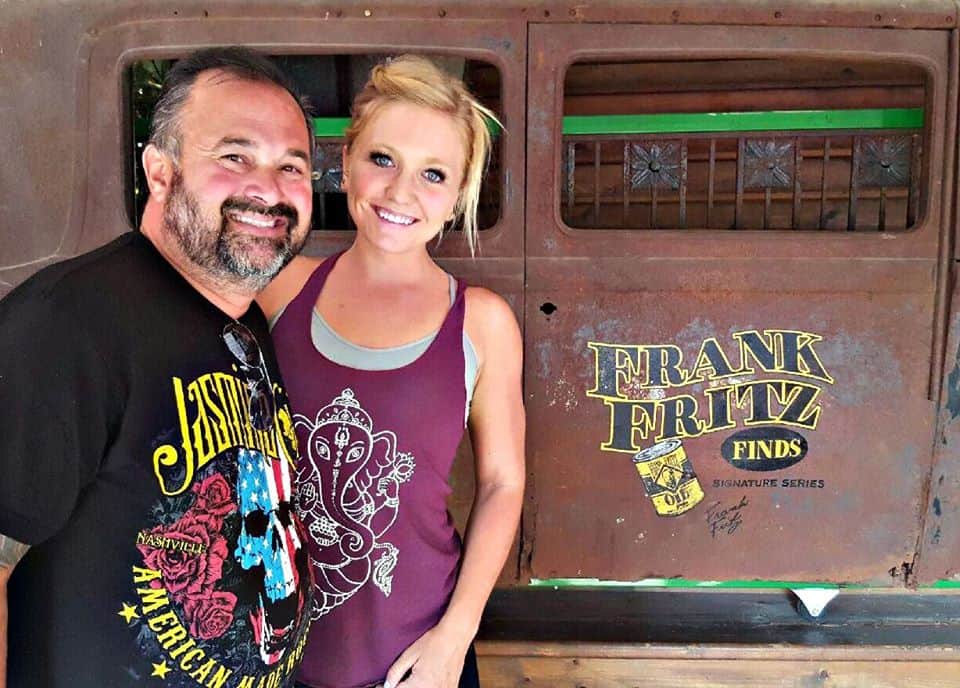 Frank's stepdaughter Paige is married and has a daughter named Eulalia. The grandfather loves spending time with Eulalia and Frank has been seen posting images of them having good times together. Have a look at this Facebook post.
https://www.facebook.com/FrankFritzPicker/photos/a.515144501862739/1303353373041844/?type=3&theater
Frank Fritz and his wife-to-be girlfriend have been seen together in social media since 2015.
The two can be regularly seen on each other's social media pages, and seem to be growing closer with each passing day.
Diane even helps out with Frank's antique shop, lending her expertise to her boyfriend. Sources also say that wedding bells are in the horizon.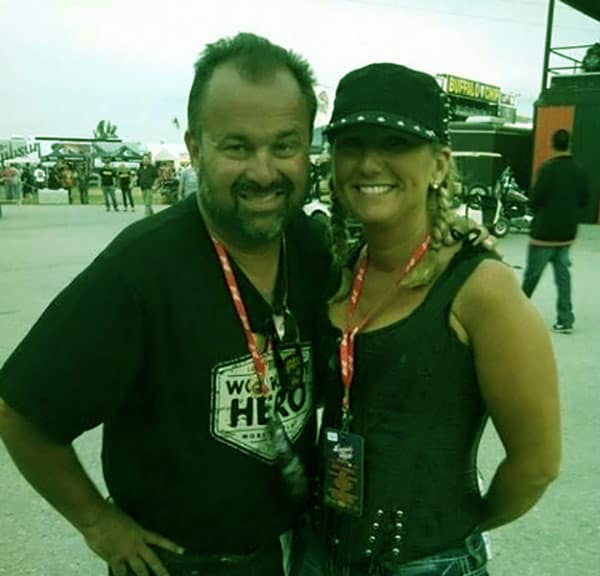 Frank Fritz with his long-time girlfriend, Diane
Many fans think that Frank and Diane are married but our research says otherwise. As far as what they have revealed in social profiles, Frank and Diane aren't married yet. We can see him calling "Babe", "my gal" but never once he has called her a wife. So, from this, we can speculate that Frank Diane is not yet husband and wife.
Frank Fritz Arrested.
Two years ago, the antiques' collector, Frank Fritz, found himself facing trouble with the law for driving under the influence. This incident took place on the 31st of July 2017.
American Pickers Frank would plead guilty and faced a $600 fine as well as pay all the relevant court fees. Frank Fritz also faced a one year probation period, and he also had to attend an anonymous alcohol program.
A later dispute with a client also landed him back in a court of law. This came after he defaulted and did not send the item he had originally sold to the particular customer.
Frank Fritz Death Rumor. He is Sick but Alive.
A lot of people do not know that Frank Fritz suffers from an incurable condition. This is Crohn's disease, which has affected him for over three decades now. As a result, he is plagued with harsh symptoms such as rectal bleeding, constant abdominal pains, skin irritation, poor bladder control, and weight loss.
To manage the condition, Frank has to maintain a proper eating schedule. To raise awareness on the condition, American Pickers Frank would even feature on a magazine cover in order to voice support for everyone else affected with the disease.
So, yes, American Pickers Frank Fritz is alive as of today.
Frank Fritz Wiki-bio.
| | |
| --- | --- |
| Full name | Frank Fritz. |
| Age | 54 years old. |
| Date of Birth | 11th October 1965. |
| Place of Birth | Davenport, Iowa, USA. |
| Profession | Antiques' Collector, Television Personality and Entrepreneur. |
| Net worth | $4 million. |
| Partner | Diann. |
| Kids | 1 |
| Nationality | American |
| Ethnicity | Caucasian |
| Zodiac Sign | Libra. |
| Parents | Susan Zirbes and Bill Fritz. |
Frank Fritz came into this world on October 11th, 1965, in Davenport, Iowa, to Bill Fritz and Susan Zirbes.
This would make the antique collector 54 years old at the moment. It is important to note that Bill was not Frank's biological father. His bio-dad abandoned the family when Frank Fritz was still young.
His mother, who at the time was a construction worker, would later remarry. Bill Fritz, who worked as a salesman at the time, adopted Frank as his son.
Not much else is known about Frank Fritz's childhood, as he has kept everything under the radar so far. What we did learn, however, was that he was an avid collector of antiques right from a young age.
Frank from American Pickers tragically lost his mother six years ago, more specifically, on the 17th of December 2013.
Originally posted on January 21, 2020 @ 10:11 am